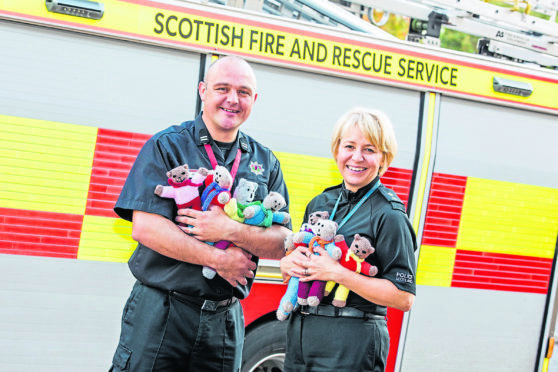 Hundreds of unique "trauma teddies" have been donated to police to help bring comfort to children across the Highlands and Islands who have affected by distressing situations.
The charity Safe Strong and Free began the campaign in June in collaboration with Police Scotland with an ambition to obtain 200 teddies, one for each of the north's police units.
However, following a string of generous donations the results  have "far exceeded" expectations.
More than 800 bears have so far been donated towards the scheme, with organisers expecting that to soon rise to more than 1,000 bears.
Each teddy will be carried by police officers on duty in their patrol cars and based at stations across the north before being given to any youngsters experiencing a trauma and shock.
During a special teddy bear's picnic held at the police headquarters in Inverness to mark the launch of the campaign yesterday, officers confirmed they were still receiving teddies in their droves, with around 50 being handed in each week.
Inspector Judy Hill said: "The public response to these teddies has just been overwhelming. Every single day there are new teddies coming our way and to know that they have all been handmade, hand knitted or hand crochet it's just incredible.
"Each one of them is unique, they all have their own little quirks, it's really nice.
"It just gives that wee bit of comfort at a time when children may have experienced something that is a bit traumatic. It could be that they have been involved in a road accident or been lost in a public place and these teddies are to provide them a little bit of comfort."
Accompanied alongside each handcrafted teddy is a booklet created by the charity titled 'Strangers that help us' – showcasing to young people the level of support emergency services can bring to them.
Kerry Glen, project co-ordinator with Safe, Strong and Free, added: "People have been incredibly generous. The amount of teddies we have received has far exceeded over and above our expectations.
"I think it's close to everybody's heart, they feel like they are doing something really nice for someone and we have had all ages taking part, including youth groups, elderly groups and knitting groups.
"Our new book 'Strangers that help us' will be included in the Trauma Teddy pack to help ensure children understand that members of the blue light services are there to help and can be trusted."