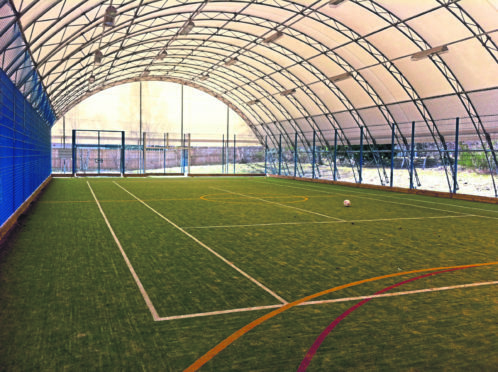 There were celebrations when the final pieces of the jigsaw were put in place for Rothiemurchus and Aviemore Tennis Club's ambitious "Courts4All" Project – which will see all season playing.
Following a major fundraising campaign, the club has confirmed it can now progress with the development of its covered venue, a first for Badenoch and Strathspey, next to the existing courts and clubhouse at Inverdruie.
It was in 2015 that the club decided to address the short playing season and the adverse weather conditions for much of the year by working up proposals to build a covered court similar to the existing example in Tomatin.
One of the key objectives, in addition to helping to sustain the future of the club and enhance the recreational offer, was to ensure the facility would be accessible to all, including those with mobility issues, and be of benefit to the wider community including other sports groups, Scouts, Guides and playgroups.
The project is being part-financed by the Scottish Government and the European Community (Cairngorms Local Action Group) LEADER 2014-2020 programme in addition to financial support from Tennis Scotland and Sportscotland.
The release of this funding however was dependent on securing the shortfall, which has witnessed the club being involved in extensive fundraising events and an appeal within the community.
Club treasurer Yvonne Birnie has confirmed that the match funding is now in place.
She added: "We have been overwhelmed by the generosity from within the community which allows our project to go ahead. Every donation, large and small, has helped release the public funding and, on behalf of the club, I would like to sincerely thank everyone for their support.
"We are sure that the confidence in the project will be rewarded once the facility is up and running and, with the work due to start in October, the new facility should be ready for play in the spring of next year".
Meanwhile, club members and visitors to the area, are enjoying the newly resurfaced existing three courts with substantial positive feedback received.
With funding from WREN FCC Community Action Fund (£50,000), Tesco Bags of Help (£4,000) Highland Council's Badenoch and Strathspey Ward Discretionary Budget and £26,000 from the Club's funds, the resurfacing was undertaken in the summer.