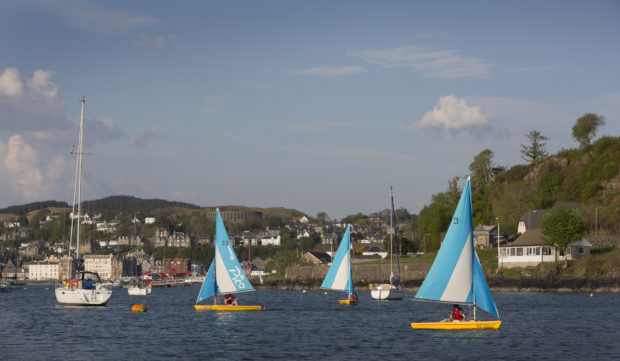 Nestled in beautiful Oban Bay, Kerrera has all the joys of island life, yet it is just a short trip to the mainland.
One of the few things holding the 62 residents of this idyllic place back is a lack of public meeting space.
However that could be about to change as steps are being taken by the community to take ownership of and renovate the former school building.
Martin Shields, chairman of Isle of Kerrera Development Trust, said: "The community has never had its own place to meet and socialise and learn.
"I would like to say every other community in Scotland has this. I think Kerrera is quite unique in many ways but that is one of the negative unique things we have.
"We meet in people's kitchens, we meet in fields. You would think every community in Scotland would have a place to meet.
"We are working with the Scottish Land Fund and Argyll and Bute Council. We have a few more hurdles to get over."
The old school house sits on a rocky outcrop near the ferry slipway and resembles a stone built church.
It is used periodically by outdoor activity group Stramash and at times by the community. However there is no water supply and the property is in a poor condition with a leaky roof.
The plan would be to purchase and renovate the building with funding from the Scottish Land Fund and donations.
Tim Vollum, one of the directors of the IKDT, said: "It's something we have been working on for a while. The community in Kerrera doesn't really have anything in terms of community resources.
"We have got a really active development trust. We purchased the slipways from Dunollie Estate and worked with Transport Scotland, CMAL and CalMac to have them renovated and extended.
"Now that is in place and working well we have moved on to this."
Argyll and Bute Council mothballed the school in 1997 and closed it in 2000.
A spokeswoman for the council said: "The school on Kerrara has been leased since 2012 to a local social enterprise offering outdoor nursery, training and development opportunities. We are currently discussing, with Isle of Kerrera Development Trust, the potential sale of the school for use as a community facility for the island."