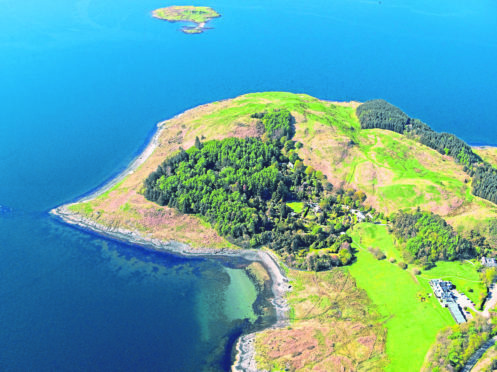 Work gets under way to fell 900 trees and eradicate a deadly plant disease at a National Trust for Scotland garden near Oban next week.
It is the latest step in the conservation charity's plan to manage the outbreak of Phytophthora ramorum, more commonly known as sudden oak death, at Arduaine Garden.
The Trust has been managing the disease – which has affected a number of forests across Scotland – at the garden since it was first discovered in 2007.
Now moving into full-scale operation, NTS will commence the felling of around 900 Japanese larch trees (Larix kaempferi) as part of an innovative four-year plan to protect one of Scotland's most special gardens, while boosting its biodiversity and resilience.
---
>> Keep up to date with the latest news with The P&J newsletter
---
Simon Jones, gardens and designed landscapes manager at the National Trust for Scotland, said: "We're doing what is scientifically and morally right for the state of plant health in Arduaine Garden and beyond. While we can't be definitive about removing disease from the property altogether, this innovative approach will go some way towards helping us protect this historic garden from future outbreaks of sudden oak death, by creating a more diverse and resilient arboretum."
Making up much of the "shelterbelt" which enables Arduaine Garden to grow its unique mix of plants, the larch species is particularly prone to disease. Several of the garden's Japanese larch were diagnosed with the first cases of Phytophthora ramorum in Scotland in 2007 and were earmarked for removal. The disease spread and, in 2016, a statutory notice for the trees' removal was issued.
Trust arborists and horticultural experts will uproot, process, and then mill the affected trees on site. This will kill disease in the wood, allowing it to be recycled and transported for other purposes without fear of spreading infection.
Among a variety of uses for the felled wood will be the creation of an organic, Queensferry Crossing-inspired windbreak to replace the larch shelterbelt.
In the area where the larch will be removed, NTS intends to plant a variety of new tree species which are more resilient to disease, including black pine, birch, western red cedar, goat willow, and sycamore. The conservation charity expects the initiative to be completed by the end of March 2022.
Arduaine Garden is home to a host of tree and plant species that are rarely seen in Scotland, including a renowned selection of rhododendrons.