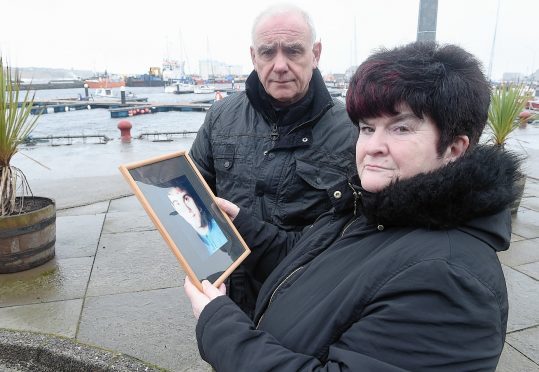 The parents of a 24-year-old man whose death remains unsolved have called for a rule change to prevent police officers from resigning or retiring before allegations of misconduct against them are resolved.
Kevin Mcleod was found dead in Wick harbour in 1997 and his family has been searching for answers ever since.
His mum and dad, Hugh and June Mcleod, believe that quest has been complicated by the retirement of the Northern Constabulary's Deputy Chief Constable, Keith Cullen, in 2003 – just days before a disciplinary hearing regarding the handling of their complaints.
And the problem returned to haunt the couple when former Chief Constable, Phil Gormley, quit amid a probe into Mr McLeod's death.
Mr and Mrs Mcleod have now received confirmation from Elish Angolini, Scotland's former Lord Advocate, that the matter of resignations would be considered as part of the force's approach to complaints handling.
Dame Angolini replied to Mr and Mrs Mcleod suggesting that the move could boost people's faith in the police.
She said: "I am determined that consideration of all key issues will be thorough, and that I have at the forefront of my mind the overarching aim of the review, which is to help to strengthen public confidence in policing."
Mr and Mrs Mcleod believe that exisiting regulations serve to "short-change" complainants.
They said: "The family are grateful that Dame Elish Angolini is going to address and consider the issue of police officers resigning or retiring before allegations of misconduct against them are concluded.
---
>> Keep up to date with the latest news with The P&J newsletter
---
"Former Police Scotland Chief Constable, Phil Gormley, went on special leave then subsequently resigned while under investigation of misconduct including my family's complaint of misconduct.
"We felt that Mr Gormley had failed to instruct police to investigate why Northern Constabulary had failed to act on the instruction to investigate Kevin's death as murder.
"Police regulations in England do not allow an officer to leave the service while subject to misconduct proceedings unless due to medical unfitness or other exceptional circumstances, however, they will still remain liable for gross misconduct for any acts during their career, even after retirement or resignation in certain circumstances.
"The current Scottish regulations short-change everyone. By allowing complaints to fall, justice is denied to all parties involved."
The announcement is expected to be welcomed in Oban, where more than 1,200 campaigners have signed a petition calling on a former policeman caught in possession of child porn, while still serving, to be stripped of his pension.
Darryl Burnside, 50, who has since been jailed for eight months, was allowed to retire before he entered his guilty plea.
Police revealed earlier this year they were interviewing 15 potential witnesses following new information on Mr Mcleod's death.