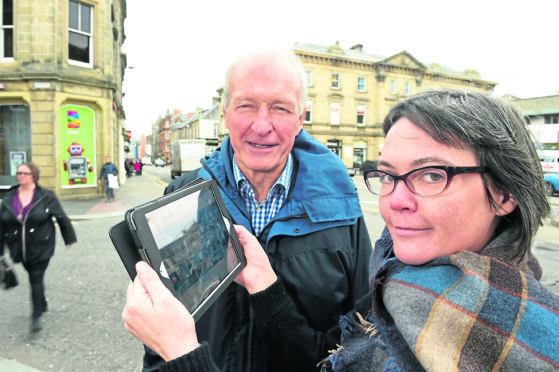 It is one of the city's busiest and oldest thoroughfares.
And now, Academy Street will be at the centre of a new online resource.
The digital heritage trail, created by the Inverness Townscape Heritage Project, aims to preserve the historic origins of Academy Street in a bid to create a digital log book for generations to come.
The website, which will launch on October 9, has been described as an 'archive for the future' as memories, photographs and stories of past times are all been collated together to create an interactive archive which will continue to grow as additional information comes to light.
More than 600 people have so far contributed to the project including groups such as A. I. Welders Social Group, the Second Inverness Girls Brigade and the congregation and community of the East Church.
During a demonstration at Inverness Museum and Art Gallery yesterday, Alison Parfitt, Curator for Highlife Highland spoke about how the project came together. She said: "One of the things the Townscape Heritage team were looking for was for something that would exist beyond the life of the project; a way in which we could continue to engage people and invite them to share memories with us and to share their heritage.
"One of the really good things about the way in which the content was created and gathered was because we were working with people; we were able to include young people. That's future heritage, for these young women are the people who will continue to be excited about heritage."
Visitors to the website will also be able to access an interactive map which outlines a series of heritage elements of the street, outlining a brief history about its original function and location in the city.
The project has been created in partnership with High Life Highland and AOC Archaeology Ltd.
David Henderson, a board member of the Inverness City Heritage Trust added: "The focus is of course on Academy Street, one of the oldest streets in the city, and its objectives are to restore the traditional building, the historic buildings that have survived throughout the years and try to re-establish the commercial basis for these properties; to make them into viable entities that can have a lasting contribution to the community,  to make it an attractive place for people to live in, to work in and of course to enhance the experience for visitors.
"It's all about capturing and preserving our heritage and making it viable for the future. The files will grow and it will become a more and more valuable archive for the future."