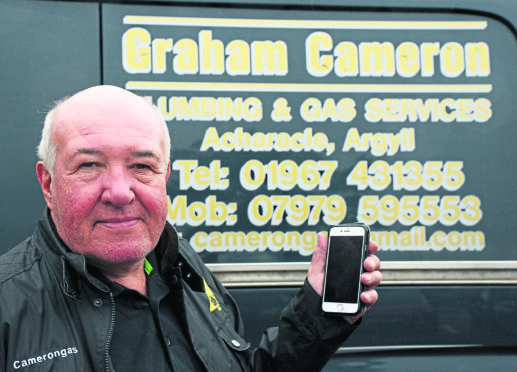 There were calls for action last night as it emerged a Highland community has gone three months without mobile phone signal.
Residents and tourists are effectively "invisible" after transmission problem failed to be fixed by one of the UK's biggest providers. EE customers in north-west Lochaber, in the Acharacle and Salen areas, have had no reception since July.
EE says a temporary fix being considered.
One of those affected is plumber and gas engineer Graham Cameron, who said: "Once I leave the house in the morning, I become invisible.
"If people try me on the mobile and don't get me, they simply phone someone else. I am missing out on work. And it is not only me – everyone is effected.
"In one of my conversations with EE they said we could terminate the contract. But I am not letting them get away with that. If I don't have a service on EE, then there is no other option, they are the only mobile service provider that works in our area. "
Kate Forbes MSP has called on one of the UK's biggest mobile phone operators to get its act together. She described the situation as totally unacceptable, and called on the mobile phone giant to fix the transmission problem.
Ms Forbes said: "I'm really disappointed that the EE site has been down for months and there is still no date by which it will be fixed.
"Businesses cannot be expected to function without a phone signal when they're paying for a contract.
"Just because the site is in a more remote area of the country, EE cannot be excused for not fixing the mast as a matter of urgency."
Kate Forbes MSP continued: "I have raised the matter with EE frequently since mid-July.
"Time is ticking and EE must fix the mast and restore connectivity to its customers."
An EE spokeswoman said: "We are working hard to resolve ongoing signal issues in the Acharacle and Salen areas in Ardnamurchan, as a result of hardware faults at two separate sites.
"Our engineers are working closely with the site provider to restore service as quickly as possible, as well as exploring a number of temporary solutions to avoid further disruption.
"We apologise for the inconvenience this is causing our customers."