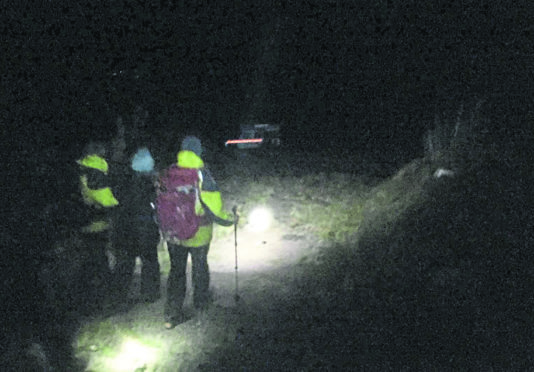 Two lost walkers, navigating by a dying mobile phone and without a torch, were found by rescuers after a night time operation in poor weather on the Cairngorm Plateau.
Cairngorm Mountain Rescue Team were called out at 6.45pm on Wednesday after the man and woman in their 20s had been returning from Ben Macdui, which at 4295 feet is the UK's second highest mountain.
The team said the couple had been "navigationally challenged and caught out on the plateau in the dark".
"The two had been on their return leg from a trip to Ben Macdui when darkness and poor visibility caught up with them," said Iain Foot, deputy leader of Cairngorm MRT.
"They were ill-prepared and got caught out by the conditions. They only started their walk at 1pm, which was not adequate planning. They had no torch, no map and were navigating by mobile phone which packed up.
"They did manage to give their co-ordinates to police before the phone died – which helped us greatly.
"But we found the guy building a stone shelter in the darkness. They were both pretty cold. The woman had a jacket that was not waterproof.
"They had done some walking elsewhere in Scotland but underestimated the conditions here. It may be September but there has already been snow on the top of the hills.
"The weather was not great – there were 40-50mph gusts and low visibility. It was in one of the clear periods they saw our torches.
"They were at about 3000 feet at the back of Coire Cas. If they had stayed out overnight they would have really felt the effects.
"The couple had reported early effects of exposure but thankfully we located them and safely walked them off the plateau around 10.30pm."
A spokesman for Police Scotland said the alarm was raised by the disorientated pair, who were from England, at 6.17pm and were located by the mountain rescue team around 9pm. They appeared to be safe and well.