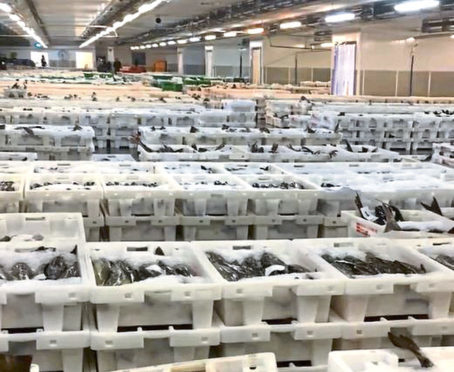 More than 250 jobs in the Highlands are under threat after the foreign owners of a major salmon processing firm announced it was proposing to close – or sell up.
The future of the Edinburgh Salmon Company (ESCo) based in Dingwall – which has 163 staff and a further 100 agency workers – has been placed in doubt following the shock announcement yesterday by owners Européenne de la Mer, a subsidiary of Thai Union Group.
North politicians have called on the Scottish Government and Highlands and Islands Enterprise (HIE) to step in to protect jobs.
A spokeswoman for the owners said: "Despite ongoing review, significant investment and structural changes, ESCo continues to suffer heavy losses as a result of highly challenging market conditions and industry trends.
"The company will actively pursue and explore all viable divestment opportunities in an attempt to avoid, reduce, and/or mitigate the potential impacts upon its valued employees.
"Our employees at ESCo are our primary consideration."
She added: "They were informed of the situation this morning."
"We are now informing our customers and suppliers about the proposal, as well as community leaders and government representatives.
"If we are unable to find a viable alternative to the proposed closure we will then carry out individual consultations with at-risk employees."
Highlands Green MSP John Finnie has called on government ministers and HIE to step in to protect jobs.
He said: "This is desperately disappointing news from the Edinburgh Salmon Company, and will come as a blow to all those workers on site.
"I have sought assurances that the Scottish Government and HIE will make every possible effort to assist the Edinburgh Salmon Company in finding a buyer for the site and provide full assistance to the workforce as need."
North SNP MSP Kate Forbes said she was hopeful that a buyer could be found, adding: "I know staff at the firm, some of whom have been there for over a decade, and this is obviously a time of uncertainty and anxiety for them and their families.
"I sincerely hope that a buyer can be found quickly, because 250 jobs is huge for a place like Dingwall."
Ian Blackford, SNP MP for Ross, Skye and Lochaber, has also described it as "devastating news" and hopes a buyer can be found for the plant.
The Thailand-based owner last year announced losses of more than £7million.
According to industry reports, they had lost a multi-million-pound contract to supply salmon to Pret A Manger earlier that year. It lost its long-standing position as the only private label smoked salmon supplier for supermarket giant Asda to Young's in 2014.
ESC was sold for a reported £11.5million by J.W. Seafoods to Merinvest, the French parent of seafood firm MerAlliance, in 2012.
In September 2014, MerAlliance was acquired by Thai Union, through its Paris-based subsidiary MW Brands, whose portfolio includes the John West tinned salmon range.
They blamed the high price of fish, which it was unable to pass on to customers, for it plunging into the red during a "difficult" 2017.
An HIE spokesman said: "This will be a difficult time for Esco employees and their families. We are in contact with the company and our partners to explore how we as a development agency might be able to help."
Dingwall councillor Graham Mackenzie said: "Your first thoughts are for the workers and their families – devastating news.
"The worry and anxiety and stress that that must cause is the first thing we must think about.
"Second thing to think of is, is there anyway to support the firm in looking to find somebody that might be willing to come in and do it and I would be looking to our MP and our MSP to assist us in doing that?
"It is not just the employees and their families, though they must be our first thought, it is the other people who supply their needs, the shopkeepers in the town and the businesses that rely on trade from the fish factory.
"Everybody is impacted by this and I am sure a great deal of sympathy will be extended from the community of Dingwall."