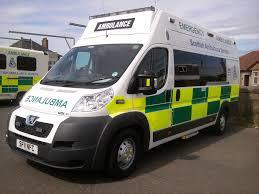 North ambulance staff have given their union a mandate to strike if necessary in a dispute over exhausting shift overruns.
Unite confirmed that slightly less than 75 per cent of members working at the North Division of the Scottish Ambulance Service (SAS) backed the move.
A meeting took place between the union and ambulance service management in Aberdeen yesterday.
Unite's concerns at the severity of the situation were acknowledged and both parties agreed to reconvene in a month's time in order to monitor the effect of remedial steps before any further action by Unite are considered.
In a series of incidents reported by Unite it was discovered that one employee had worked up to thirty-six hours and another twenty-three hours in a shift that should only last twelve hours in the area which covers Highland and Islands, and Grampian.
Tommy Campbell, Unite regional industrial officer, said: "The resolution of our members working in Highland and Islands, and Grampian as demonstrated in the consultative ballot result is rock-solid. Following a productive meeting with SAS management where our concerns were acknowledged, Unite has agreed to postpone any further steps until we see if the remedial steps being put in place do as we hope. Both parties will meet again in a month's time but if there is no progress, based on the mandate we have been given, all options are now on the table."
Milne Weir, North Regional Director for the SAS, said: "We have been engaging positively with staff and our partners at Unite since we were made aware of concerns.
"We had a very productive meeting today regarding this issue and look forward to working in partnership with our union colleagues in the coming weeks and months so that we can continue to give patients the very best service."