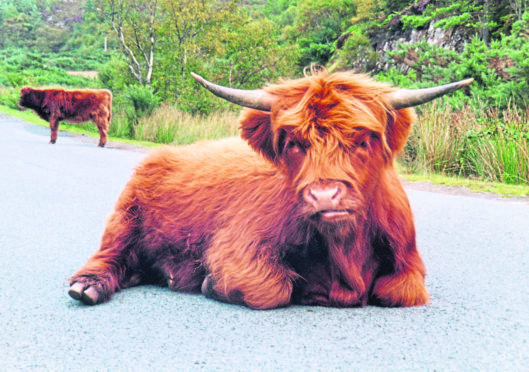 Cows may once again roam free in a Highland village – a decade-and-a-half after the tradition was hit with a shock ban.
Livestock were a common sight on the streets of Plockton – setting for the BBC television series Hamish Macbeth – until ecoli struck Scotland.
The outbreak, now 15 years ago, saw cows banned from the west coast village and its beach after an agreement was struck between the National Trust for Scotland and the Plockton common grazings committee.
---
>> Keep up to date with the latest news with The P&J newsletter
---
Now signs have been posted around the village inviting residents to a meeting on Monday October 8 to discuss reversing the ban.
Though the loss of cows from the village may once have been mourned, for some time has moved on, with opponents pointing out how busy it has become with cars and visitors and warning the dark days of ecoli have not been forgotten.
Former community council chairman and common grazing member Charlie MacRae, for one, is against their return.
He said: "They have said all along that the ban was in place for 15 years and of course that will be up on November 1.
"But I can not imagine where the cows are going to go. Things have changed in the last 15 years and there are no safe grazings for 44 heads of cattle.
"The street is so busy with cars and tourists. Adding cows to that will only make it dangerous.
"We know a lot more about ecoli now than we did 15 years ago – but it cannot have simply just gone away.
"It will no doubt be a very heated debate."
Current community council chairwoman Màiri Sìne Chaimbeul says people should keep an open mind.
She said: "A deal was struck 15 years ago that meant cattle were taken off the village street and the beach – a right granted to all the shareholders in the common grazings.
"We understand the position has now changed and the deal between the National Trust and the common grazings committee will no longer stand.
"This means the Common Grazings Committee want to host a public meeting to put the issue of cattle on the main street and beach back onto the agenda. This is something they are entitled to do.
"People should come to the meeting with an open mind. At the moment the community council does not have a view on the matter."
A spokesman for the National Trust for Scotland said: "A public meeting to discuss grazing rights has been called in Plockton and we will be represented at it.
"We are interested to hear all points of view on the matter from crofters and other residents alike."