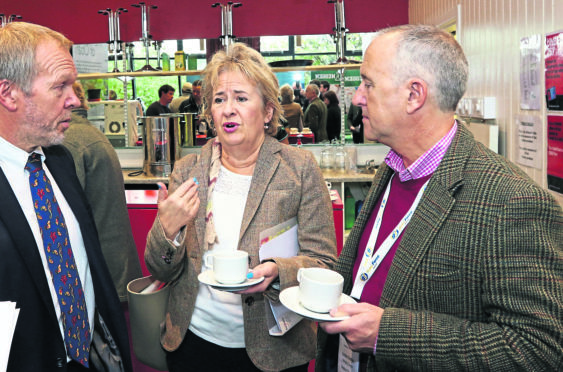 Delegates from all over the world are in Oban for the annual Association of Scottish Shellfish Growers conference.
The event, which will see the winners of the Best Scottish Shellfish competition being announced this morning, was opened yesterday by Roseanna Cunningham, Cabinet Secretary for Environment, Climate Change and Land Reform.
She said: "I really hope that my being here today does demonstrate continuing Scottish Government support for your industry.
"The industry is very important to Scotland and the Scottish Government is fully committed to its sustainable growth.
"The wider aquaculture industry supports 12,000 jobs across all parts of the supply chain.
"When we market and sell our product it is done with images showing the beauty and health of our environment. Anywhere you go in the world we are using our environment as a marketing tool.
"It is in everyone's interest to take care of the environment."
Delegates from all over Europe and as far as Australia and Canada attended.
Ms Cunningham was welcomed by Nick Lake, ASSG executive director. He said: "Our annual conference is always well attended and brings shellfish farmers and allied industries into the heart of shellfish farming country for two days of lively dialogue, discussion and debate.
"This also presents the opportunity for policy makers and government to engage with what is a rural and expanding sector with proven potential to contribute to the economic success of coastal communities and safeguard the marine environment."
A session covering the social and environmental perspectives of shellfish farming followed, with Baukje de Roos from the Rowett  Institute, Aberdeen, talking about the role shellfish can play in the health of the nation, and Morven Robertson from the Blue Marine Foundation explaining the environmental benefits of native oyster production.
Asa Strand from Gothenberg University spoke about Swedish mussel production and seed supply. Martina Ferriera Novio from the National Association of Manufacturers of Canned Fish and Shellfish (ANFACO) in Vigo, looked at the Spanish mussel industry and Australian Col Bridges gave updates on oyster developments and technology.
Today opens with Amanda Bryan, chairwoman of Crown Estate Scotland, talking about the organisation's role as landlord in the development of marine industries.