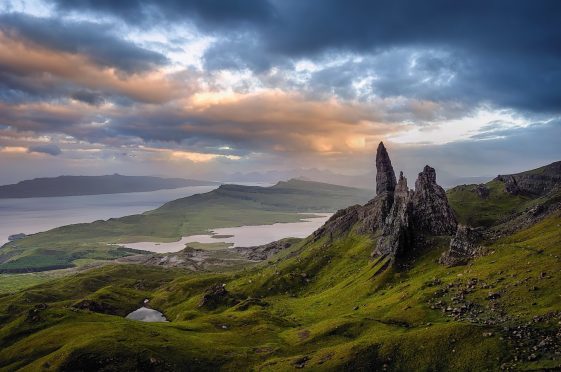 Relief is on its way for visitors to two of Skye's most popular beauty spots.
There is no need for 'wild looing' any longer as RTIF funding for toilets at Storr and Blabheinn was announced today by tourism secretary Fiona Hyslop.
The two locations will also benefit from more car parking and other improvements.
Storr is to receive £300,000, topped up by £200,000 from LEADER and £328,571 from Highland Council.
Blabheinn, managed by the John Muir Trust, will receive £65,579 from RTIF.
The dramatic Old Man of Storr on Trotternish Ridge has seen visitor numbers increasing year on year with toilet and parking provision major issues in the area.
Local councillor John Gordon said: "Visitors are being directed via social media to visit specific sites which are promoted as the 'top places' to visit.
"First amongst the natural features in terms of visitor numbers is the Storr which has seen a 600% increase in 10 years.
"As a result, the site is overwhelmed with visitors arriving in cars, coaches, on foot by bike etc. This all results in serious road safety issues and can leave many visitors with a negative impression of the area."
Plans have been lodged with Highland Council to build a car park taking advantage of an area with an entrance already in place for timber extraction vehicles.
Existing forestry tracks will be used to create the car park and access roads, minimising disruption to the broadleaf plantation previously planted by Highland Council.
A new toilet block, square in shape, with a red metal roof and white rendered walls partially clad with larch roof is proposed, with disposal facilities for campervans alongside, and dedicated sewage treatment plant.
Litter bins, interpretation and information signage and bicycle stands will add to the amenities on the site.
At Blabheinn, two composting toilets will be installed, and ground works will extend the existing car parking provision to 34 spaces.
The toilets need no water and require minimal maintenance. Harmful bacteria are broken down by biological organisms to produce non-food fertiliser.
The toilet roofs are designed to echo the slopes of the two tops of Bla Bheinn mountain, a popular Munro with spectacular views over the north-west Highlands.
Sarah Lewis, Skye conservation officer for the John Muir Trust said: "This is great news and takes a big step forward. It will relieve parking congestion and would help us keep the main access route to the mountain landscape clean and tidy and free from the mess that some tourists, unfortunately, do leave behind.
"The funding itself will not cover all the costs, the balance we would have to raise ourselves."