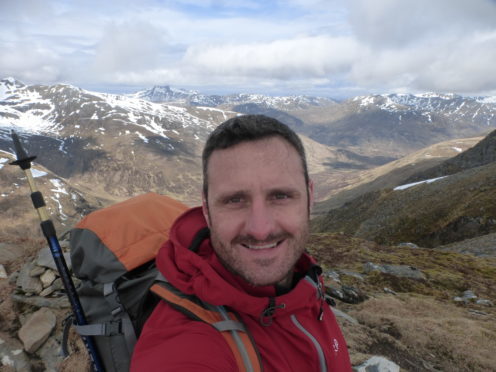 A motorcyclist from Skye who suffered multiple injuries in a road crash has thanked the medics who came to his aid.
Chris Prior, 42, who works in human resources in Glasgow, was travelling to his island home on his Kawasaki Ninja motorbike on June 15 when a collision sent the him flying off his bike before clattering into a crash barrier.
Mr Prior said: "I was in a long line of traffic and moving really slowly. I manoeuvred out and I drifted out behind a car.
"Just as I popped out to have a look, a van – coming in the opposite direction – glanced me on the side and hit me.
"I flew off the bike and flew half the width of the road and into a crash barrier, and landed in a heap."
An off-duty doctor and a member of the public came to Mr Prior's aid and dialled for an ambulance to attend to the scene on the A87 near Invergarry earlier this year.
He explained: "There was another person, a member of the public, who also assisted. They both made me comfortable.
"I thought, this is going to take ages, but they were there quite quickly."
The crew were dispatched from Fort Augustus where paramedic Kathryn Wood and technician Heather Lindsay raced to provide urgent on-scene care to Mr Prior before an air ambulance also arrived on scene.
Mr Prior added: "I knew I had broken my hip and I also thought at the time that I had broken my shoulder and foot, but both were just badly bruised.
"It was painful, but it was in fits and starts. Initially, I did not feel a thing, but after that, every time they moved me, it hurt. It was quite bad."
Mr Prior was taken to Raigmore Hospital in Inverness where he spent four nights, undergoing an operation on his hip before he was dispatched and allowed to return home.
Mr Prior, who has since made a full recovery, has now thanked the paramedics involved in caring for him.
He said: "They were just really good. They were really professional. They knew what they were doing, and were really friendly, considerate and professional.
"I had never broken a bone before, and never had an accident before. I have been riding for 24 years.
"I just remember a massive bash – I thought I was going to die. I remember flying through the air, but I cannot remember hitting the crash barrier. It was all quite scary.
"I want to say thank you to the paramedics – I am so lucky to be alive."