Chief Executive of Scottish Natural Heritage (SNH) has cycled 1,300 miles around Scotland to inspire the public to get active and improve their mental and physical health.
CEO Francesca Osowska began her ambitious journey in March, quite understandably splitting 32 days of cycling into seven stints. On her travels, she visited 39 SNH offices and 13 national nature reserves, meeting more than 723 members of staff.
The final leg of her journey began on Monday in Shetland, as she headed to Orkney, Caithness and Sutherland; before ending at SNH's headquarters, Great Glen House in Inverness, yesterday for a grand celebration of her success.
As she rode over the finish line, Ms Osowska spoke of her amazing journey.
She said: "This journey has been a real eye-opener for me during my first year with SNH. I've seen so many of our stunning natural sights along the way, with a few adventures thrown in as well. From a pair of sea eagles in Stornoway to a seal encounter in Shetland to lacewings at St Cyrus nature reserve, it's been 1,300 miles to remember.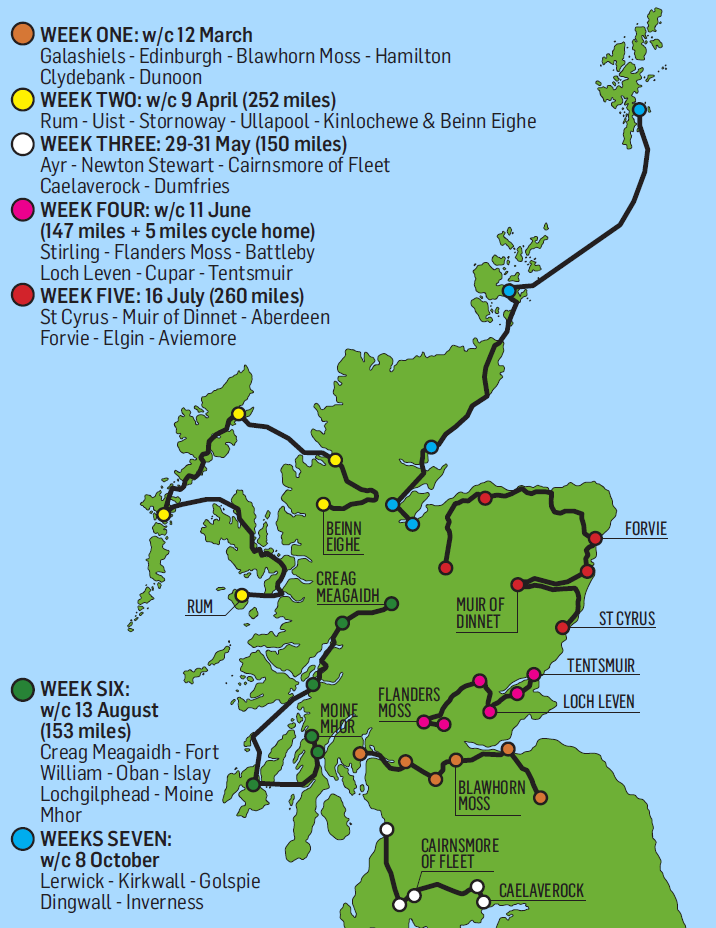 "As a relatively new chief executive it's allowed me to see all of SNH's offices, learn about our work and meet lots of staff and partners and it's been an absolutely fantastic way of getting to know the organisation and the brilliant people that work in it.
To accomplish her aim of encouraging people to be active in nature and help them improve their overall mental and physical wellbeing, she took to social media – using the hashtag #CycleForNature – to document her journey.
Her efforts have so far raised more than £1,135 in support of the Scottish Association for Mental Health (SAMH); with donations continuing to flood in.
She added: "I think just shows that people's awareness of mental health issues are really growing and people want to support people with mental health challenges and the fact that we have been able to raise money for such a brilliant charity along with way is great."
SAMH Chief Executive, Billy Watson, said: "Our sincere thanks to Francesca for choosing to raise money for SAMH during her cycle around Scotland. Her epic journey to bring together the SNH staff team is a great example of promoting a physically and mentally healthy workplace. On behalf of all of us at SAMH, we wish Francesca well and send many congratulations as she cycles the last leg of Cycle for Nature."