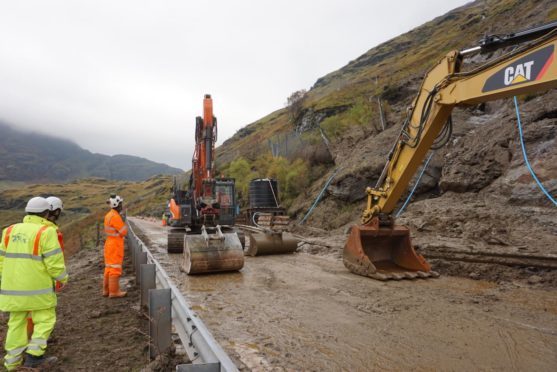 The Old Military Road local diversion route at the A83 Rest and be Thankful has been reopened following an assessment.
Work will continue today to improve the debris catch fences on the slope above the road following last week's multiple landslides.
Conditions on site will be carefully monitored throughout the day with the decision taken late afternoon to consider keeping the Old Military Road open overnight if it is safe to do so.
Multiple experienced teams including rope access personnel, geotechnical engineers, specialist machinery operators, BEAR Scotland Operations teams and heavy plant contractors are working to prepare the area to reopen once considered safe.
Eddie Ross, BEAR Scotland's North West Manager said: "The geotechnical inspection this morning has allowed us to reopen the Old Military Road through the Rest and Be Thankful, providing an alternative diversion route with improved journey times for road users in and out of Argyll.
"We ask road users to please drive safely during the convoy through the Old Military Route and adhere to the speed limit which is in place for everyone's safety while the repairs above the A83 carriageway continue.
"Safety remains our top priority, and we'll review the progress of the repairs today alongside the forecast weather conditions overnight tonight before any decision is made about keeping the local diversion route open throughout the night.
"We will continue to monitor the situation on the hillside and it is hoped that given the generally improving weather forecast this week that good progress can be made in the full recovery of the A83."