It was a day for the North in the Silver Pendant competition at the Royal National Mod in Dunoon.
Mikie MacEanraig and Eileen Duncan, both from Melvich Gaelic Choir, and both tutored by Christine Stone and Raymond Bremner, took the top prize after learning and singing four songs for the competition.
Eileen, from Tongue, Sutherland said: "I am absolutely delighted to have won the competition, I  can hardly believe it. In 2012 when I decided to start competing I had no idea that one day I would be able to  compete in, far less win the Silver Pendant. So today is very special.
"I have been supported by Christine Stone and Raymond Bremner and Kerry Finlay and I can not thank them enough for all the support they have given to me."
Mikie said: "Even if I had not won, I would say it was an absolute pleasure taking part in the competitions today. I enjoyed it very much."
Caithness-man Mikie, who appears in the touring version of the Jimmy Shand Story, continued: "It is as much about making music and singing with friends, as it is about winning a competition. All thanks to Raymond and Christine who have helped me to prepare for the competitions."
Christine Stone, Gaelic tutor for the winning pair, said: I am happy, happy, happy – this is an incredible achievement for them both.
"It is not me to be thanked, at all. It is a lot of hard work. It is like a marriage."
Raymond Bremner, who encouraged both Mikie and Eileen into the choir and then as soloist singers, said: "This is a great achievement for Caithness and Sutherland – we are really pleased that both Eileen and Mikie have done so well.
"It is them who have put in all the hard work. But it was a great competition and everyone who took part should be praised for getting up on the stage and singing."
11th time lucky for Inverness singer
An Inverness woman has finally won the Oran Mor at her 11th outing, while six-and-a-half months pregnant.
Ceitidh Campbell nee Smith, 31, said her first baby "Munch" was kicking her during her performances in the Wednesday morning solo singing competitions.
But that didn't stop Ceitidh winning the Mary C MacNiven Memorial Salver, the Mr and Mrs Archibald Macdonald Memorial Trophy and The Joyce Murray Trophy for the highest marks in Gaelic.
Ceitidh, originally from Lochalsh, but now lives with her husband Iain in Inverness, said: "It is nice to be a Campbell in Argyll and winning the Oran Mor. It just seems right."
The seat of Clan Campbell is in Argyll, at Inveraray Castle where the Duke and Duchess of Argyll still live. Ceitidh was married two years ago to Iain Campbell, his family were originally from Argyll.
Ceitidh continued: "I didn't think I had much chance of winning today. Being pregnant has made this a very, very different mod. It is a different way of singing and breathing when you are pregnant.
"I first competed in Gaelic competitions when I was five in Lochalsh. I started learning Gaelic when I was ten. I didn't go to Gaelic school.
"I think that is why I love teaching Gaelic, because I know how it is to be a learner myself. I teach at Millburn Academy where we have a large number of Gaelic learners."
The champion porridge maker
The winner of the men's solo singing Caledonian MacBrayne competition is already a champion porridge maker.
John Boa said at 57, he thought he might be too old to compete in the Oran Mor and the Caledonian MacBrayne Trophy, but he liked the songs so much that he would give it one more chance.
Although John now lives in Edinburgh, he was brought up in Struy, Strathglass near Inverness and it was there that he learned both his Gaelic and his porridge making.
He says, the secret to both good porridge and good singing is the same thing, he said: "Keep the ingredients simple and put a little bit of love into the mixing."
John learned some of his Gaelic while working at Sabhal Mòr Ostaig. He sings with Lothian Gaelic Choir.
He said: "I enjoy singing at the Royal National Mod, and I don't mind the TV cameras or the audience. I enjoy the learning of the songs and then sharing them with other people.
"The only thing that puts me off is my age. At 57, I sometimes feel I am too old for this game. But this year, I saw the songs and thought I really want to learn those songs and sing them."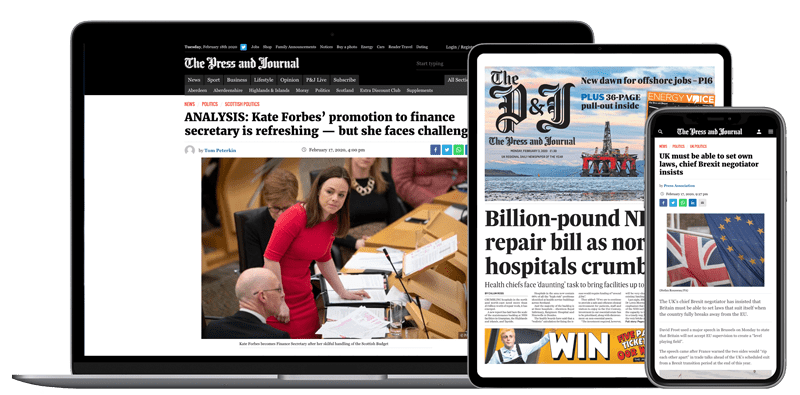 Help support quality local journalism … become a digital subscriber to The Press and Journal
For as little as £5.99 a month you can access all of our content, including Premium articles.
Subscribe