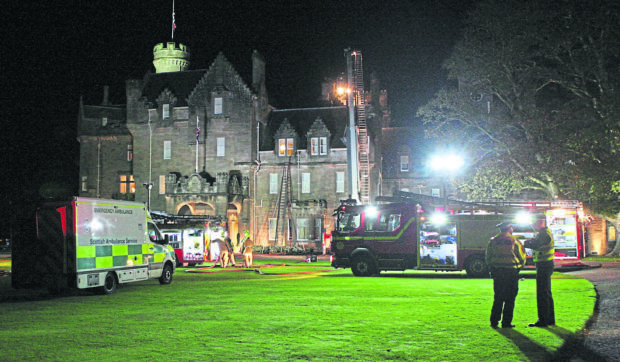 Parts of north Scotland were left without ambulance cover when a crew signed off fatigued after responding to a blaze at Skibo Castle while another transferred a patient to Inverness, union chiefs have revealed.
GMB union organiser Karen Leonard said communities were being "put at risk", adding: "The service has been getting away with it at the moment, but there have been times when it has been close to breaking point."
She claimed areas of Caithness and Sutherland were left without adequate accident and emergency ambulance cover during periods of October 15 and 16.
The Golspie crew signed off fatigued after responding to the fire at Skibo Castle.
She added an inter-hospital transfer from Caithness General in Wick to Raigmore in Inverness also left a shortage of ambulance resources in the far north.
She said: "By continuing to expose on-call crews to such excessive fatigue-related health and safety risks the service are clearly in breach of their duty of care.
"Although both Wick and Thurso ambulance stations have recently been made 24/7 at significant expense, quite often such resources are simply viewed as means to conduct inter-hospital transfers 24/7 which is often achieved at the expense of there being no adequate A&E ambulance cover in Caithness and Sutherland.
"Due to human factors, the on-call crews will permit themselves to be over-worked as they are aware that if they book off fatigued they are leaving a massive area without adequate A&E ambulance cover.
"This is essentially a form of emotional blackmail.
"Most on-call crews will at some stage reach the point where they realise they must book off fatigued.
"If they then take the statutory 11 hours off there is a lengthy gap in A&E ambulance cover within their local area."
A Scottish Ambulance Service spokesman said: "We recognise the fantastic work of our crews across the country who work hard each day taking care of patients in our communities.
"We are currently in the process of training 1,000 new paramedics and we've also increased our staffing budget by nearly £500,000 in the region to manage the increase in hospital transfers and reduce on call working.
"There are 19 new accident and emergency staff in place across the north of Scotland and nine new posts in Caithness.
"This has allowed Wick and Thurso ambulance stations to move to 24/7 shifts and to remove on-call working, and we are continuing to reduce on call working across the region, including Golspie and Lairg, as part of a phased implementation programme.
"We are also investing in specialist paramedic posts across the Highlands. We are continuing to work closely with our staff and the GMB to improve our services further though and a partnership meeting with them is taking place shortly to review progress."