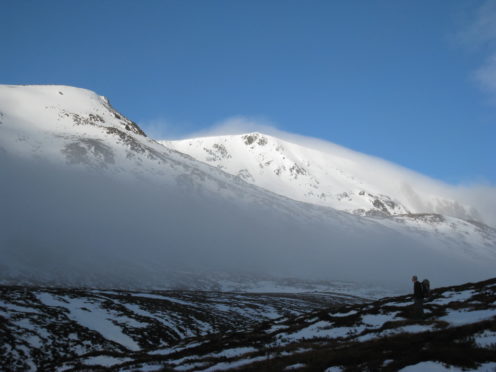 Walkers and climbers planning to head for the hills are being urged to prepare for the unexpected as wintry conditions get set to hit the north.
Experts from Mountaineering Scotland have issued a warning to walkers to 'winterise' their rucksacks prior to the shift of fewer daylight hours from Sunday.
Extra layers including a synthetic duvet jacket and an emergency bivi bag stored in the bottom of a rucksack are just some of the essentials being recommended along with a map and compass, winter hat and gloves; with those venturing to new heights encouraged to check for extreme changes to the forecast.
---
>> Keep up to date with the latest news with The P&J newsletter
---
The warning comes as forecasters predict snowfall on the country's peaks this weekend, accompanied by strong wind and gales.
Met Office forecaster Bonnie Diamond said: "Especially overnight on Friday and Saturday there is a risk of ice and frost as temperatures fall close to or below freezing.
"Across the north half of the country there is a chance of showers falling as snow on high ground and a mix of sleet and hail, mainly in Scotland.
"We have had a pretty mild October so far and a warm start to autumn in places so it will be a big change for everybody as we go through the weekend.
"Certainly it's time to get the warm winter clothes out."
This stage of winter can make it tricky underfoot for climbers – a thin covering of snow over bare rock or scree can make footholds extremely slippery, without giving enough purchase for ice axes to bite well.
Heather Morning, Mountain Safety Adviser for Mountaineering Scotland, said: "Conditions can be very treacherous at this time of year and just having the right equipment isn't enough: you have to be able to call on experience to know how to deal with a whole range of conditions, both weather-wise and underfoot.
"Shorter daylight hours, dropping temperatures and the first snow on the hill are all good indicators that it is time to think about extra kit in your rucksack. Routes will take longer than expected in winter conditions and many people will end up finishing in the dark. So a head torch – and spare batteries – is crucial. In fact better still is to carry a spare head torch, which saves having to faff about in the cold and dark trying to change over batteries.
"If you are heading out on the higher tops, now is the time to add crampons, rigid boots to accommodate them, an ice axe and spare items such as hats and winter gloves to your essential kit list."
The warnings come after several groups of climbers without the basics were rescued from north hills in a matter of weeks.