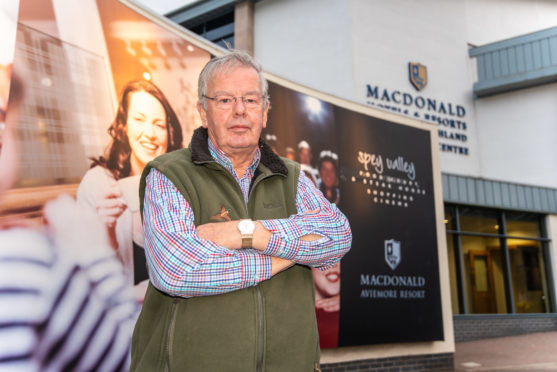 A Badenoch & Strathspey councillor has slammed Macdonald Aviemore Resort for accepting millions in taxpayer cash for the resort, only to close its doors to local swimmers.
Councillor John Bruce described the resort's position as 'hypocritical'.
An arrangement between the resort and Highland Council allowing High Life Highland card holders to use the resort's swimming pool was terminated two months ago after financial negotiations over future arrangements broke down.
Aviemore residents now face a 30-mile round trip to their nearest public pool at Grantown-on-Spey.
Councillor John Bruce said: "I was shocked to discover that after refusing to allow local High Life Highland card holders to use the facility they had for years, the Aviemore Resort had received £8.5m from Highlands and Islands Enterprise (HIE).
Light at the end of the tunnel for upset Aviemore pool users
"It is incredibly mean spirited to take tax payers money and then stop local card holders from using the facilities.
"The council had previously paid nearly £200k per annum to the resort to allow HLH card holders in and it was very easy money for them.
"Their facilities are open anyway and their staff still there, they just got this money to let them in and no real additional cost to themselves.
"The resort uses the rurality of Aviemore as a huge selling point, so they must surely understand the challenges that local people face?"
Mr Bruce tabled a question at this week's Highland Council meeting questioning Aviemore Resort's position.
In a written reply, he was told the council had sought advice from HIE regarding the public funding arrangements relating to the development of the resort, and promising further discussions to explore whether there is anything further HIE can do to support the council's wish to see public access restored.
Mr Bruce said: "The written reply was a step in the right direction but rather lacking in facts. We really need to scrutinise actions taken on private/public arrangements and ensure the tax payer is protected.
"I think Macdonald need to come back to the table and take the very good deal they were offered by the council."
HIE confirmed that an award of £8.5million was made 2003.
A spokesman for Macdonald Hotels said: "We have already written to Highland Council requesting further talks in the hope that we can resolve this unfortunate situation and resume access to the facilities for High Life members.
---
>> Keep up to date with the latest news with The P&J newsletter
---
"We greatly appreciate the efforts of local politicians Drew Hendry and Kate Forbes in helping to broker talks.
"John Bruce's intervention will be judged on its own merits, but it's worth pointing out that the company which received support from Highlands and Islands Enterprise went into administration over a decade ago.
"Since we took over the resort in 2009, we have invested over £9.9m of our own funds to provide employment for thousands of people, regenerating the Highlands economy and supporting the local community."