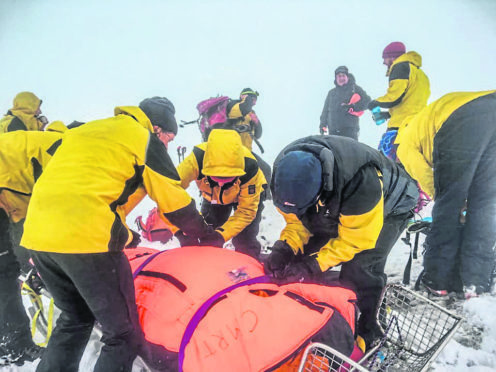 Two former university friends were rescued from the Cairngorms in sub zero temperatures at the weekend.
Members of the Cairngorm Mountain Rescue Team were called out just 30 minutes after completing another exhausting rescue.
The alarm was raised at around 9pm on Saturday as the women – one aged 26 from the Aberdeen area and a 30-year-old from London – huddled for warmth on Lairig Ghru.
They had been planning to spend the night out doing a two-day traverse but got caught out by the conditions.
And though well prepared, they found some of their equipment near destroyed by the snow, rain and wind.
"They were panicking a bit, said Cairngorm MRT leader Willie Anderson.
"It was winter conditions, with snow and sub zero temperatures.
"They were well equipped for the traverse, but their tent had been trashed by the wind and they and their sleeping bags were wet. The women were also cold.
"It was not a good night to be out in those conditions with wet gear. They were old university friends doing the traverse, but got caught out by the weather."
Five members of the team reached the women and walked them off the hill by 1am. They were given dry clothing and warm food and drink.
Earlier at 3pm, 18 members of the team carried an injured 32-year-old walker for more than two miles by stretcher.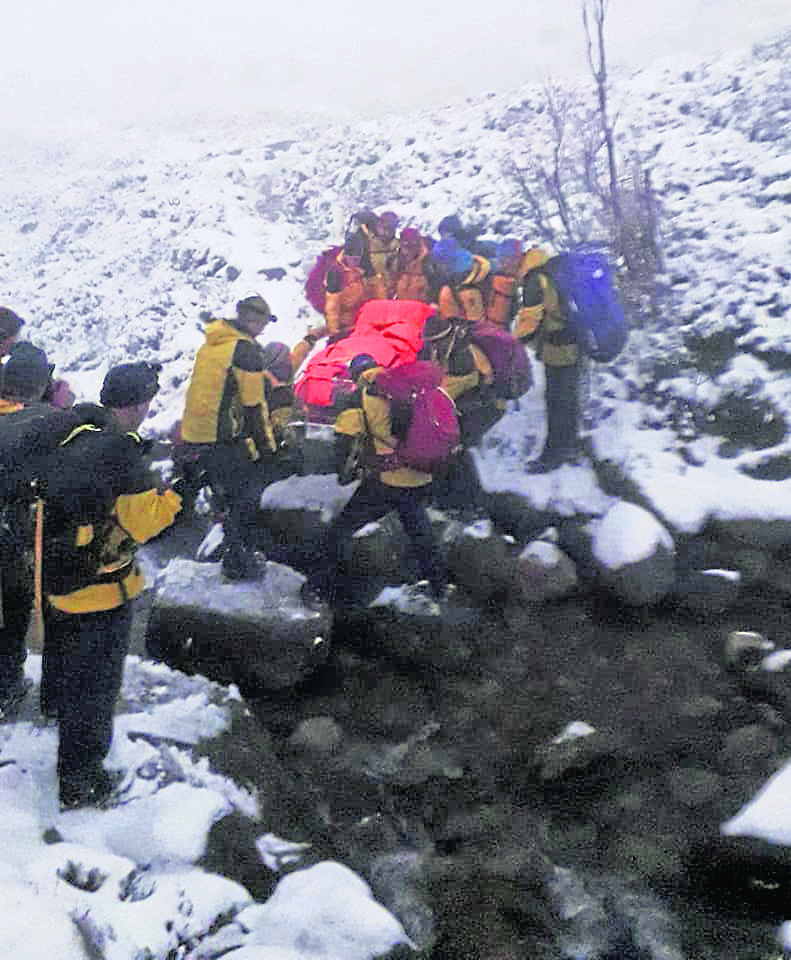 The man, who was from England and with his mother, dislocated his knee in the Northern Corries.
He had slipped in Coire an Lochain – on his way back from Ben Macdui, the UK's second highest mountain – and was unable to continue. He was stretchered to an ambulance.
"It was the first time that anyone can remember sledging a stretcher on snow in October," said Mr Anderson.
"We got back about 8.30pm – it was again wintry conditions – and I had just put my pyjamas on when we got the other call out. Winter is definitely here."
It was also the sixth call out for the team in a month.
Last week two walkers missing in the Cairngorms were blasted by rescuers after they were found in appalling conditions with winds gusting to 100mph.
The pair from the Glasgow area tried to navigate using an app on a mobile phone.
Members of Cairngorm, Braemar and Aberdeen mountain rescue teams spent over six hours searching for the walkers.
Mr Anderson said at the time it was the third rescue in weeks involving walkers lacking a map and compass.
On September 30 two badly equipped and "very lucky" walkers wearing gym gear were rescued in the Cairngorms after rescuers battled heavy snow showers.
The hikers had no torch, no compass, no back pack, no map and unsuitable light clothing.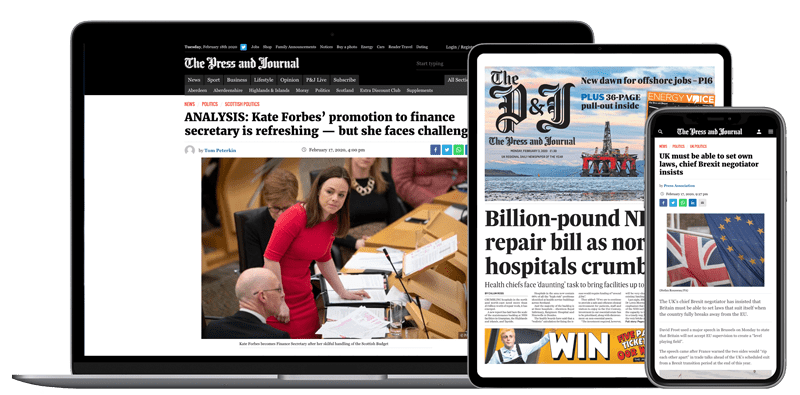 Help support quality local journalism … become a digital subscriber to The Press and Journal
For as little as £5.99 a month you can access all of our content, including Premium articles.
Subscribe