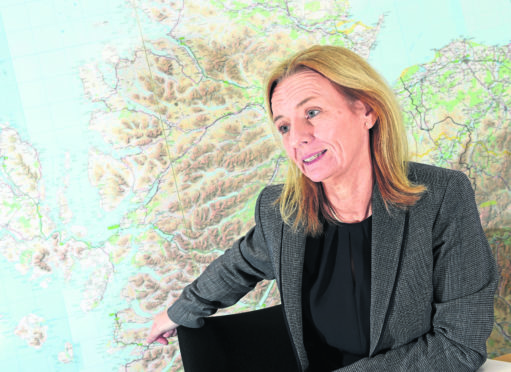 The new leader of Highland Council has said there should be "no need" for compulsory redundancies – but admitted there will be "difficult choices" as she starts her role.
Speaking for the first time since she was announced as chief executive of the beleaguered local authority, Donna Manson revealed she plans to consult with the public four times a year.
Mrs Manson takes up her position at a time when the council's reserves are at a historic low, it has a projected overspend of £5m in this budget year and plans are being made to deal with a potential budget gap of £66.7m over the next three years.
Mrs Manson, who brings with her 29 years of public sector experience in Edinburgh, Fife and Borders councils, was bullish about the local authority's financial future and how she will tackle it.
She said: "I've had a very positive experience of the budget in the last 12 years in two very different councils.
"You commit to it every day and bed it into what you're doing.
"We absolutely can deliver a budget process. We can move forward.
"We have exceptional opportunities here that perhaps some councils don't have in terms of income generation particularly in tourism."
Mrs Manson vowed to make public engagement one of the key tranches of her position, increasing the number of engagement exercises from one prior to the budget setting, to four per year.
She said: "We need to work with the public, and my tenure is about going out across the Highlands, not just part of a year, but for four months of the year, engaging and listening to staff and the public.
"There are many opportunities to leverage funding to the Highlands through partnership and third sector working, and lots of opportunities to work together on identifying key services which we continue to deliver.
"Also, making some difficult choices about some areas that might look different in the future."
---
>> Keep up to date with the latest news with The P&J newsletter
---
Although emphasising that difficult budget decisions need to be made, Mrs Manson said that with people planning there should be no need for compulsory redundancies.
She said she wanted to working with families coming to live and work in the region in a "holistic" way, which would include help to acquire housing.
She said: "We want to support them as much as possible in becoming part of the Highland community."
Mrs Manson vowed to continue with the work of the council's Re-design board to identify savings and efficiencies.
She said: "We have lots of people with ideas and creative solutions. I've been handed over a very positive workforce.
"Our council has many talented people with everyone so positive, and upbeat.
"People are up for change, but it's important that we listen."
She said the council's new strapline is Your Voice, Your Council, Your Future, a message to all to work together.
Opposition finance spokesman, Councillor Ian Cockburn said that while consultation was important, the council administration was put in power to make decisions and should "get on with it" without the need for four budget consultations per year.
He said: "Public engagement should be coming through the elected councillors."