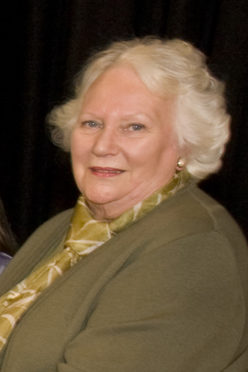 A former children's TV presenter from Caithness has just had her first book published – aged 85.
Bunty Gunn was part of the line-up of the popular 70s and 80s ITV programme How and has now written a detective novel.
And while she prepares to launch it during Scottish Book Week, she already has a follow-up in the pipeline.
Called See You Around, the tale is set in the mid-to-late 1980s in which the police get a helping hand from a group of amateur sleuths who live in a care home.
Mrs Gunn, from Lybster, had her spot in the limelight presenting How for nine years when she used her maiden name Bunty James.
See You Around was spawned by an unsettling episode she had in a London department store in the 1960s.
She recalls: "I was living there at the time and I had a problem with a retina in one of my eyes which they thought was detaching and meant I had to be very careful how I moved.
"I was in the store to buy a scarf which was beside a plastic arm sleeve standing in a showcase.
"Before my horrified eyes, I watched as the arm moved. I almost fainted, I got such a fright."
She then rationalised the incident as her eye condition playing tricks with her.
But it gave her the idea for the novel.
The action is set in the fictional town of Crittlesham, which is based on Lewisham, near where she and her husband Iain were living at the time.
It starts with the gruesome discovery of a severed arm. It triggers a murder probe led by a detective inspector, whose mother is in the local nursing home.
There follows finds of other body parts around the town and the DI's mother and fellow residents get involved to help track down the killer.
She said: "The real heroes are the ladies in the home who form a sleuthing community to help the inspector crack the case."
Mrs Gunn finished the first draft of the book about five years ago while on holiday in Gozo, off Malta.
Her first bid to get it published foundered when the agent she contacted went out of business.
She then contacted Wick horror writer and publisher Glyn Salisbury after she was asked to speak at a meeting of Wick Writers Group.
Mrs Gunn is launching her new book in Thurso Library November 24 as part of Book Week Scotland. She will then speak about the novel, answer questions and sign copies.