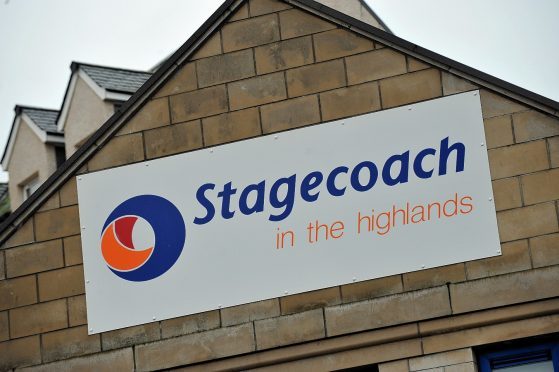 Stagecoach North Scotland today confirmed plans to expand its Inverness bus operations through the proposed acquisition of certain assets from D&E Coaches.
The expansion to the Stagecoach North Scotland business is to be confirmed by the end of 2018 with the introduction of the new and extended bus network in Inverness expected to begin operation on January 7, 2019.
The assets acquired would include a number of vehicles and the transfer to Stagecoach of certain Highland Council tenders and contracts around Inverness and the Black Isle.
20 staff members from D&E Coaches are also due to transfer to Stagecoach under TUPE arrangements.
No cash? No worries! Buy mobile tickets with a credit/debit card in our app! > https://t.co/8G9w0oIfgV pic.twitter.com/PvNc01mO7u

— StagecoachNScot (@StagecoachNScot) November 1, 2018
The transfer of these routes to Stagecoach will bring new benefits for customers including the introduction of contactless payments on board every bus as well as live bus tracking via the Stagecoach app.
Working closely with the Highland Council, the local bus operator has reviewed the bus network analysing commercially operated services as well as Highland Council supported services to deliver better value to the local authority for their investment in the local bus network.
The proposed changes are designed to reflect customer demand and will ensure a sustainable bus network is in place across Inverness and the Highlands.
Proposals include
New service 9 operating Monday – Saturday connecting Kinmylies and Holm Mills to Culduthel, Raigmore, UHI and Inverness Shopping Park.  Service 9 will be the first Stagecoach bus service to use the West Link Road providing more attractive journey times for those crossing the city by bus.
Additional service from the city centre to UHI and Raigmore as service 2U.
Additional frequency from Culloden to UHI.
Hourly service for Lochardil incorporating school journeys for Inverness Royal Academy.
Peak bus service from Culbokie to Inverness on service 22.
Extensions to Yairs View estate in North Kessock using low-floor buses on most journeys.
Improved evening service to Beauly and Muir of Ord.
Merkinch and Raigmore Estate services to increase in frequency from up to every 45 minutes to up to every 30 minutes.
Bus service for scholars travelling from Evanton to Dingwall.
Service to Inverness Caledonian Thistle Football Club on home match days.
David Liston, Managing Director, Stagecoach North Scotland said: "This acquisition will allow us to further expand our successful bus operations in the north of Scotland where we currently employ around 850 staff and operate around 350 vehicles.
"The expansion will bring a host of new benefits to those travelling by bus and address a few of the issues we have been faced with.
Pay contactless on bus! We've introduced a new way to pay to make it even easier for you to catch the bus! find out more about all the ways you can pay here > https://t.co/MIM3qUVwwp pic.twitter.com/7oNmqKaVKv

— StagecoachNScot (@StagecoachNScot) November 1, 2018
"We are particularly pleased to be able to include the proposed commuter bus service from Culbokie to Inverness in line with customer feedback already received.
Public Consultation 
Stagecoach is inviting opinions from the local communities in Inverness and the Highlands through a public consultation that is due to take place from November 5 until November 16.
The consultation will follow on from the success of the Caithness network consultation earlier this year where locals have been able to influence the proposals ahead of the plans being finalised.
All proposed timetables and the new network map will be available to download from Monday next week.
Your Opinion
Feedback can be given digitally at stagecoachbus.com, via email to nscotmarketing@stagecoachbus.com, by post or alternatively there is the opportunity to discuss the proposals directly with staff at Inverness bus station on November 12, from 10.30am to 4.30pm.
All feedback received will be reviewed ahead of the proposals being finalised for completing the official registration process with the Traffic Commissioner.
Full details will be available at Inverness bus station and on the Stagecoach website.