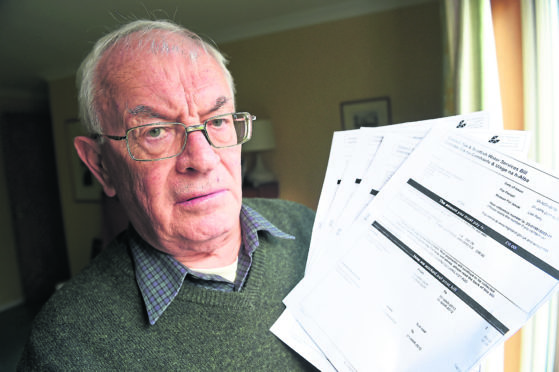 Two homeowners have accused cash-strapped Highland Council of wasting money after they received multiple council tax invoices informing them they owe absolutely nothing.
The council is currently consulting with its staff and the public on ways to save money as it is facing a £66.7 million budget gap over the next three years.
William Morrison of Culloden received four separate letters over two days while Ken Gill from Acharacle has received 18 in the same space of time.
Mr Gill's invoices date as far back as 1993 while Mr Morrison's to 2008.
Highland Council has told Mr Gill he received so many copies because of a computer error, while human error has been blamed for Mr Morrison's pointless invoices.
Mr Morrison jointly owns the family home in Sutherland with his brother David, who lives in Dundee, and sister Violet Macleod, of Tain.
They kept the house at Sangobeg near Durness for sentimental reasons after their mother Jessie died in 2007.
---
>> Keep up to date with the latest news with The P&J newsletter
---
The siblings have religiously paid the council tax for the Durness house, which received a 10% discount for being a second home, prior to 2017 when the council changed the policy.
Now the authority has sent Mr Morrison four separate letters, in four separate envelopes. Each invoice has a bottom line of £00.00 owed.
Mr Morrison said: "It would be a joke if it weren't for the fact that the Highland Council budget is in such a mess. When you think about the cost of postage and the time to fill an envelope. How many other owners are receiving the same useless correspondence?"
He added: "In the light of Highland Council's rather precarious budget, this seems a futile and wasteful example of maladministration for maladministration's sake."
Mr Gill said: "Is it just me or are they sending hundreds out to people? If they have hundreds of people receiving 17 letters, all being paid for by the Highland Council, even just in the paper alone, how much is it costing them? They are closing public toilets down and reducing services to try and save money. They need to look themselves to see where they are wasting it."
A spokeswoman for the council said they were looking into Mr Gill's case and blamed human error for Mr Morrison's letters. She said: "With regards to the matter of sending out more than one bill in an envelope, this has been considered previously and regret the administration of this would cost more than sending out individual letters."