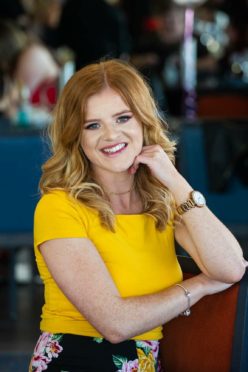 A heartfelt unfinished letter penned by young cystic fibrosis sufferer in the weeks prior to her death has led to her nurse being recognised with a national award.
Ashley Patterson, 23, from Nairn, took ill at the end of May and, after being transferred to Aberdeen, sadly passed away just a few days later on June 3.
In the weeks leading up to her death, she had started a letter to her nurse of 13 years, Lesley Blaikie, to nominate her for an award if one ever came up, as a thank you for the hard work and dedication she has shown to every aspect of her life.
Ashley's mum, Niki Russell, 48, who also works at Raigmore, a specialist nurse in the cardiac department at the same hospital spoke of how the letter came to exist.
She said: "Ashley had been a bit poorly. She had been on some antibiotics at home as she had been taught to do it herself. She had a bit of a problem with one of her blood lines one Sunday night and Lesley came round to get it fixed on her day off.
"We had talked about it for a long time and Ashley then decided to put something down on paper.
To ensure her daughter's wishes were honoured, Mrs Russell passed the letter onto lead nurse Iona McGauran who in turn nominated Cystic Fibrosis nurse specialist Mrs Blaikie for the Nurse Award at this year's Scottish Health awards.
She said her daughter would be "chuffed to bits to have been able to do this." She added: "Ashley would be saying well that's caused a fuss. She never shied away from attention but she would be so delighted that it has raised awareness about Cystic Fibrosis. She would be chuffed for Lesley."
Speaking of her accolade, Mrs Blaikie said: "It's been an honour just to be nominated because of all the nurses that work for the NHS deserve it. Her family gave me the letter after she passed away which was really touching; words can't describe how I feel about it.
"In the letter, Ashley speaks about me being there through times in her life when she needed things and have been through a lot of things with her so for her not to have finished that is difficult but to win the award on the back of that makes it more poignant. I feel my life is better having been part of hers."