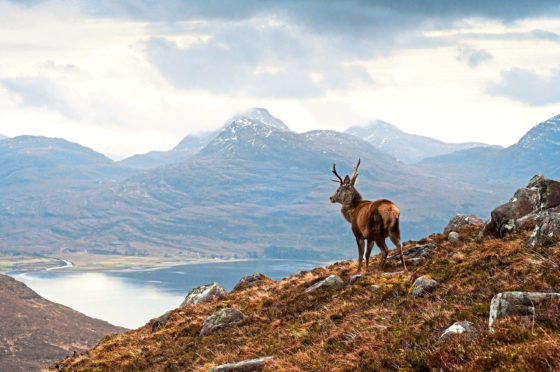 Nature enthusiasts have condemned the proposed slaughter of 750 deer in the Highlands, arguing that numbers should be controlled by loading guns with "contraceptive darts rather than bullets".
Environmentalists have criticised plans for a cull of red, roe and Sika deer over 32,000 acres in Sutherland.
Scottish Government agency Forest Enterprise Scotland (FES), responsible for managing the forest estate, has awarded a £71,000 contract to a Drumnadrochit firm to carry out the "deer control" project.
But the cull has prompted an angry reaction from animal welfare charity OneKind – whose slogan is "ending cruelty to Scotland's animals".
Policy adviser Libby Anderson said: "Our position is to oppose culling as a management technique.
"We know that many people consider the growth in deer numbers to be a problem and we are not opposed to controlling their populations humanely.
"But it is depressing, in the 21st Century, that species management in Scotland invariably boils down to lethal control – the killing of sentient animals.
"We've seen very little focus on humane alternatives, such as immuno-contraception, which is effective in deer.
"OneKind would prefer to see guns loaded with contraceptive darts rather than bullets."
Control will take place across parts of Sutherland near Bonar Bridge, including Achany, Inveroykel, Benmore and Einig.
An FES spokesman said: "The management of deer is generally an accepted and understood part of rural life.
"As deer have no predators (in Scotland), it is necessary for numbers to be managed to sustainable levels. The work in this contract will help protect the forests and associated natural habitats from the negative impacts that deer can have on the environment.
"All our deer management is carried out by our own wildlife rangers, or contractors, who are all highly trained and qualified professionals."
A spokesman for The Scottish Gamekeepers Association said: "Ideally, FES would still be employing more full-time rangers, but deer management is subject to financial constraints.
"Hopefully the deer will be controlled within the legal seasons and without reliance on night shooting, which should only be a last resort."
In Scotland, about 30,000 deer are shot on national forestry estate land each year to prevent overpopulation and to protect around 85 million young trees.