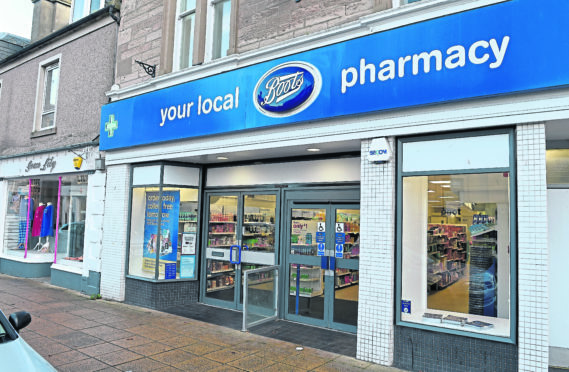 A trainee pharmacy technician has successfully sued Boots for £10,000 after being disciplined for privately joking that half of the "miserable" population of Nairn was on anti-depressants.
Annette Alston, who worked in the firm's Nairn shop for more than 11 years, was carpeted by management after word spread that she had made the "flippant" remark in response to a friend's complaint about residents.
When one of Mrs Alston's customers, who was being prescribed anti-depressants, was told about the comment she complained to Boots that her confidentiality had been breached.
An internal investigation later found that no such breach had taken place, because Mrs Alston had not named any one customer as being on the medication.
But despite the conversation in question taking place in her home, bosses ruled that the 47-year-old mother-of-three had "brought the company's name into disrepute" by making the "highly inappropriate" observation.
Mrs Alston was handed a final written warning last December, which meant that any subsequent complaint could result in her being sacked, despite having a previously "unblemished" record.
She resigned in February and has now been awarded £9,921 after taking Boots to a tribunal.
Last night Mrs Alston described the result as a "huge relief" after having her good name "dragged through the mud" by her employer.
---
>> Keep up to date with the latest news with The P&J newsletter
---
Area manager for Boots, Claire Wilson, received a complaint from a customer last December claiming that Mrs Alston had told a friend about the pills she was being given.
The complaint stated: "One of your staff in the prescription department has breached the store's confidentiality code by disclosing the medication I am on to one of my friends.
"I'm visibly upset and and distraught by this as I have always been private about this.
"I would have expected some professionalism."
Karen Stuart, manager of the Forres branch, visited the Nairn store unannounced a week later to interview Mrs Alston.
During the interview, Mrs Alston explained that she was jokingly responding to a remark that her South African friend had made unfavourably comparing Nairn to her homeland.
She said: "I may have said 'half of Nairn are on Seratine' as a flyaway comment but I definitely would not have mentioned anyone's personal medication.
"My friend said she missed South Africa and was finding Nairn very difficult, as people weren't friendly.
"We laughed and joked when she said everyone was miserable here as in South Africa they all smiled and hugged.
"I laughed and said, in a flippant comment, 'that's probably because half of Nairn are on anti-depressants'."
Despite her explanation, Mrs Alston was suspended immediately following the interview and a disciplinary hearing was convened.
Mrs Alston was warned that the joke might be considered as "potential gross misconduct" – which could result in her being sacked without notice.
She was ultimately issued with a final written warning although management agreed that no breach of confidentiality had taken place.
Store manager Alison Winter wrote to her: "You made an unprofessional comment. This was highly inappropriate and could potentially cause damage, offence or embarrassment."
Mrs Alston's solicitor, and the chairman of Quantum Claims, Frank Lefevre said the punishment for a "private, off-the-cuff and jocular remark" was "unusually excessive".
Mrs Alston lodged an appeal against the ruling,  claiming it was "too extreme", but in February she was informed that it had not been upheld.
She resigned at the end of that month, insisting that her position had been made "untenable".
Employment judge Neil Hosie paid tribute to Mrs Alston's 11 years of "unblemished service" with Boots as he said the sanction was "manifestly inappropriate".
Finding that she had been unfairly dismissed, he said the contentious remark was "the sort of hyperbole used in everyday conversation" and "could not possibly be construed as referring to an individual".
He added: "It is the sort of extravagant language which is not meant to be taken literally."
A Boots spokeswoman said: "While we have taken on board the feedback from the judge on this isolated case, protecting patient confidentiality is very important to us. We will always take any allegations very seriously and will investigate them thoroughly."
---
Mrs Alston last night revealed how her "heartbreaking" suspension from a job she loved ruined last Christmas, as she feared losing her career and being unable to keep her house.
The mum, who has now lost her passion for pharmacy and works as a primary school pupil support assistant, outlined her ordeal.
But she encouraged anyone in a similar situation to follow their convictions and take their bosses to task – no matter how daunting the prospect may appear.
Mrs Alston said: "I took my job with Boots very seriously and fully understood the importance of confidentiality, and I understand why management needed to investigate the complaint.
"But the way they handled that investigation showed no regard for me, it was extremely stressful.
"They suspended me immediately and withheld my pay over Christmas, it was heartbreaking.
"I had been there for 11 years and was studying for a diploma through the company at the time. I thought this would be my career until I retired.
"I thought I would lose my job and then lose my house, which was very emotional."
Mrs Alston was initially opposed to fighting the firm's treatment of her, but eventually decided to "stand up for herself".
She added: "Nairn is a small place and it was my reputation getting dragged through the mud.
"I felt I couldn't return to work with the final written warning hanging over me as I worried another complaint could come in and I wouldn't have a leg to stand on."
Mrs Alston described her growing confidence as Judge Hosie showed increasing support for her plight during the two-day tribunal.
She said: "I felt like giving up sometimes, and it's scary to take on such a big company, but now I feel so relieved that I can finally move on."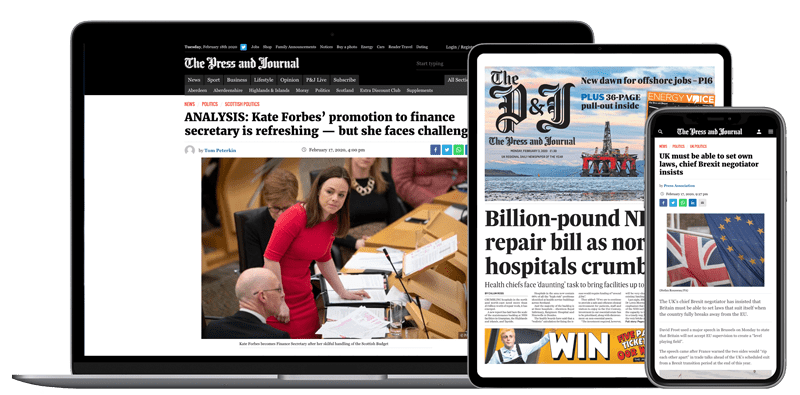 Help support quality local journalism … become a digital subscriber to The Press and Journal
For as little as £5.99 a month you can access all of our content, including Premium articles.
Subscribe