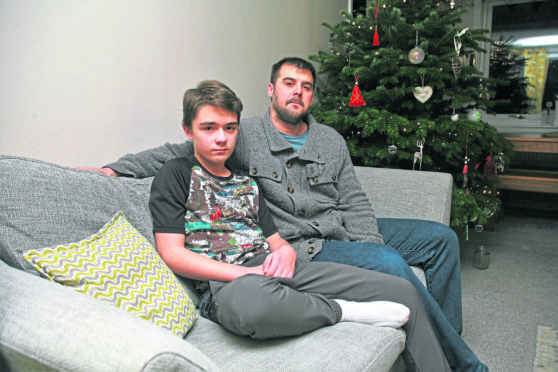 A family has said health concerns forced them to move out their "forever home" costing them at least £1,000, the third family to leave the same houses in a matter of months.
The Green family moved into one of four houses owned by the Highland Small Communities Housing Trust in Strontian, with a view to purchasing the house after building up a deposit in a rent-to-buy scheme.
After being in the house for only three days father, Kevin, noticed mould in the attic when he was placing boxes into the loft space.
Kevin told the P&J: "I am a plasterer and a damp proofer, so I know what damp looks like when I see it.
"We complained about the lack of ventilation in the loft space, and a contractor came out to deal with it. He drilled two holes, that still didn't work – so another person came out and made bigger holes that allowed mice to get into the house.
"When I looked at the blue print plans for the houses I noticed the plans for ventilation in the loft hadn't been carried out. Instead of a £200 unit being fitted in the loft space, a £20 unit had been fitted, they don't do the same thing."
After two years and serious concerns about their children's health, the family took the desperate measure of moving out the house in Strontian they had hoped to be in with their growing family. Instead they took a council property.
As a "goodwill gesture",  HSCHT refunded a £500 deposit to the family, but did not agree to repaying the £1,000 the family paid towards future ownership of the house.
Wife Georgina added: "HSCHT basically blamed us when we moved out the house, now that other families are coming forward it seems that something more needs to be done."
Denise Anderson, chairwoman of Sunart Community Council, said: "We conducted an independent surveyors report to be undertaken of the houses, and we have asked HSCHT to look at the results. We will be discussing this further at our future community council meetings."
A spokesman for HSCHT said: "The HSCHT has been working closely with the contractor on a programme of remedial works which has provided improved ventilation to air tight homes, that have been built to the current building standards.
"The HSCHT are committed to continued monitoring of the effectiveness of these improvements and we will continue to liaise with the tenants on an individual basis in this regard."