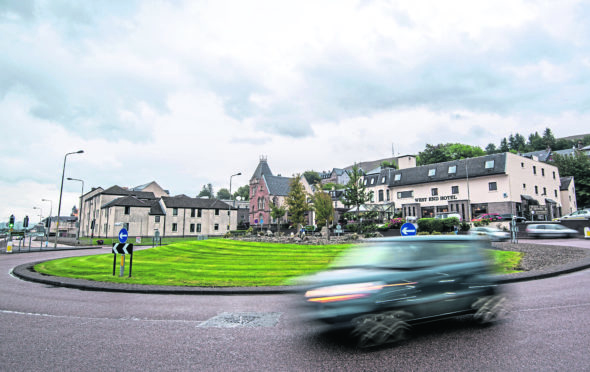 Transport Scotland have been told to stop "tinkering" with north roads, and consider urgent changes to prevent further gridlock on the A82.
Investigations into traffic problems on the A82 through Fort William, and north to Spean Bridge and Inverness, will be carried out in the New Year, Transport Scotland say – but campaigners insist real considerations needs to be made to re-routing the road altogether.
Motorists reported up to 40 minutes to travel less than 100 yards last summer on a short leg of the road between a new out-of-town shopping centre and Fort William's town centre.
Action group the A82 Partnership was informed by Transport Scotland this week that recent adjustments to Fort William's North Road have not achieved the promised improvements to the traffic grid lock.
Councillor Ben Thompson, chairman of the A82 Partnership, said: "I am firmly of the opinion that no tinkering around with the present road network will significantly alleviate this unacceptable situation which impacts negatively on the local economy and the lives of the people of Lochaber.
---
>> Keep up to date with the latest news with The P&J newsletter
---
"The Fort William Strategic Transport Study recommends that further investigation work should be undertaken to explore both a realignment of the A82 at An Aird to Carr's Corner, or consider a link road between the A82 and the A830.
"We will  be pressing politicians and Transport Scotland to instruct this investigation work as an urgent priority."
Kate Forbes MSP said: "Anybody travelling through Fort William this summer will have, again, faced unacceptable delays due to the congestion.
"I still believe that we need short term and long term fixes to this problem, but the short term fixes need to be far more radical.
"I have a meeting with the Cabinet Secretary Michael Matheson to discuss this very soon and I will make clear that the West Highlands cannot continue to function with so much pressure on the road through Fort William.
"Ultimately, we need a new road but in the meantime, more needs to be done at the Nevis Bridge Roundabout and we need all businesses and residents to recognise the long term needs of the area."
A Transport Scotland spokesman said: "Transport Scotland officials met with the Fort William group last month and agreed to commission a further report to identify additional improvements to the trunk road through Fort William.
"We are committed to working with The Highland Council on the second Strategic Transport Projects Review, which will take forward the recent transport studies completed for Fort William and Lochaber."