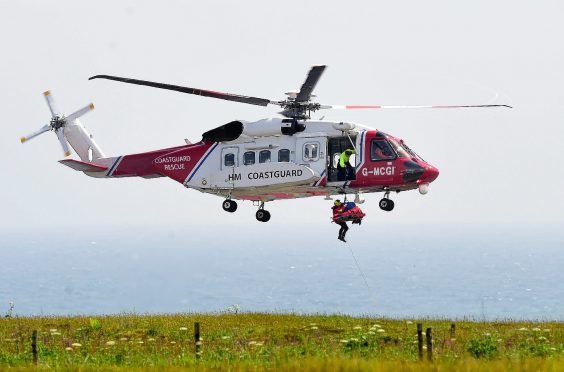 New government figures show there has been a major rise in the use of search and rescue helicopters throughout Scotland.
Both Inverness and Sumburgh have had more taskings so far in 2018 than they did during the entirety of 2017.
It is believed that the increase in activity is as a result of the helicopters being used for a wider range of jobs, due to their increasing capabilities.
During the whole of 2017, Inverness had 233 taskings, while the figures show that up to September this year there have already been 257.
Although we are always on call the team takes a wee break from official training over the summer.Today saw the team regroup for the 1st training day post break and it was a cracker. Flight 951 sorted us out with some invaluable training and the team then worked on Nav, Casualty care and back roping.Many thanks to Bristow Group HM Coastguard – Highland

Posted by Aberdeen Mountain Rescue Team on Saturday, 25 August 2018
It is a similar story at Sumburgh, which had 116 taskings last year and up until September this year has already had 126 helicopters out.
Stornoway had 143 last year and has had 112 up until September this year. Prestwick had 351 in 217 and 271 so far this year.
At Inverness there were particularly large increases in rescue/recovery and support missions. There were 147 rescue and recovery operations last year with 152 this year.
The base helicopter performed 27 support operations, supporting other services, last year and 50 already this year.
---
>> Keep up to date with the latest news with The P&J newsletter
---
Richard Parkes, Director of Maritime Operations and HM Coastguard said: "HM Coastguard's state of the art helicopters deliver a first-class service across Scotland and the rest of the UK. Demand on the helicopter service has continued to grow and we are extremely proud of the essential work that the helicopter crews carry out on a daily basis to assist those in their time of need, not only along the coast, out at sea but inland too."
Al Gilmour, chairman Cairngorm Mountain Rescue Team, said: "From talking to crews informally, I think they are being tasked to a wider range of incidents across the whole of Scotland.
"The breadth of the jobs they are getting called to is growing. I think that is as a result of the capabilities they have these days."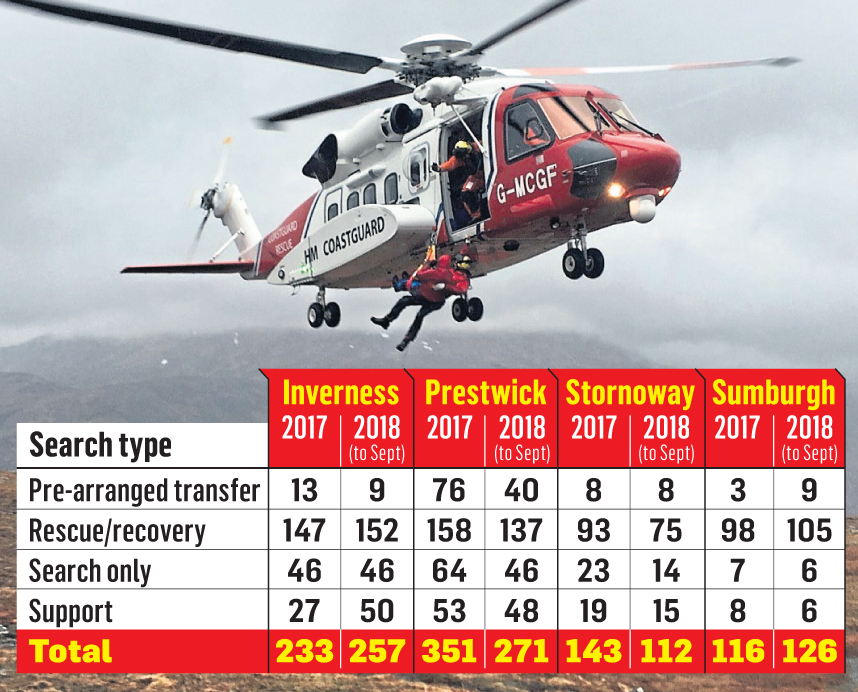 He added: "A perfect example of the benefits of the helicopter was on Friday. A climber had fallen in the Corries. We were tasked to try and get him out. It was super windy. That would have been a long stretcher carry to get him back out.
"The helicopter was able to get within a few hundred meters of where the casualty was. That must have saved 90 minutes worth of pain for the casualty and a huge amount of work for the rescue team.
"That is a prime example of the worth of the helicopter both from the point of view of the casualty and the rescue team."
Thermal-imaging cameras for mountain rescue teams
Hi-tech thermal-imaging cameras normally used by the military will now be helping mountain rescuers in Scotland.
Electronics company Thales has donated the pair of cameras – named Sophie UF2 – to Scottish Mountain Rescue, which represents more than 20 volunteer teams in the country.
Damon Powell and Kev Mitchell, from the organisation, received the thermal imagers recently at a national training conference at Glenmore Lodge near Aviemore.
The Sophie UF2 is more commonly used by the military and similar units are used by the British Army and many others worldwide with more than 10,000 having been sold.
Thales said the infra-red sensor in the Sophie UF2 will help SMR locate a missing person, irrespective of it being day or night, by sensing their heat signature. The built-in GPS, digital compass and laser rangefinder will help provide accurate location information. The imagers are compact, lightweight, battery operated and hand-held.
Mr Powell said: "We are very grateful to Thales for this kind donation of equipment that will assist mountain rescue volunteers searching for missing persons in the wild places of Scotland and will be especially useful in the winter months, when searches frequently take place in the hours of darkness.
"These outstanding pieces of equipment are a leap forward in technology available to our teams."