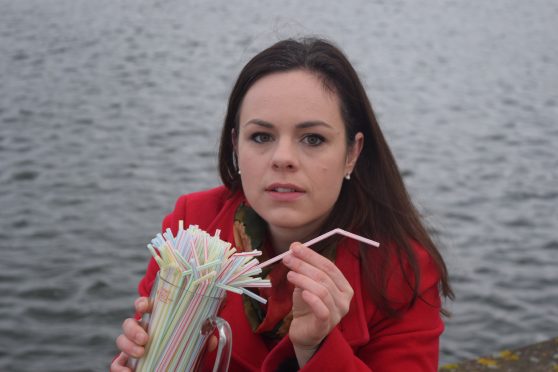 A young Highland MSP last night spoke of her pride one year on from launching a campaign to cut the use of plastic.
But Kate Forbes said there was still much more to be done following the first year of the Final Straw crusade.
The MSP for Skye, Lochaber and Badenoch, who launched Final Straw last January, said: "At the time I wanted to raise awareness of the blight of plastic waste on our coastlines, caused in part by our wasteful approach to food and drink packaging.
Western Isles Council becomes first local authority in Scotland to pledge to ditch plastic straws
"Plastic straws seemed a good example of single-use plastics, because they spend a moment on our lips and then forever in our seas . Last year beach cleaners picked up 700 pieces of plastic every 100 metres – including bits of plastic straws.
"So, I launched a petition, created a website and started contacting restaurants, bars, supermarkets and anywhere else that might stock plastic straws. My asks were simple.
"I wanted consumers to say no to useless plastic straws."
---
>> Keep up to date with the latest news with The P&J newsletter
---
She added: "I wanted restaurants and bars to think twice before giving customers a plastic straw that they hadn't asked for.  And, I wanted grocery stores to start stocking alternatives to single-use plastic straws.
"Small steps would make a big difference. The pub chain Wetherspoons estimated that they used 70 million straws a year in the UK – until they stopped adding a plastic straw to every customer's drink."
At the time of the campaign launched she was asked what she would like to achieve with the campaign.
She said: "Feeling over-enthusiastic and over-optimistic, I suggested that I would like a few restaurants and grocery stores to stop supplying plastic straws automatically by the summer.
Scottish Parliament bans plastic straws in latest victory for campaign
"I never for a minute envisaged that within weeks, hundreds would have signed my petition and well-known chains like Wetherspoons would stop supplying plastic straws.
"Within weeks of that, some of the largest grocery stores had confirmed to me that they had stopped stocking plastic straws or intended to phase them out.
"In the public sector, the Scottish Parliament removed plastic straws and Comhairle nan Eilean Siar was the first local authority to pledge not to use plastic straws in school canteens.
First Minister Nicola Sturgeon praises Ullapool youngsters' straw campaign
"And then, in February, only seven weeks since I launched my campaign, the Scottish Government agreed to ban plastic straws by the end of 2019."
Kate added: "The greatest success was perhaps the most unthinkable: McDonald's.
"The distinctive straw-in-cup symbolises McDonald's the world over, and seemed the last frontier. Yet, in late spring, McDonald's too agreed to pilot plastic-straw-free restaurants.
"I do not claim a monopoly of credit for these accomplishments. Evidently, the campaign to ban plastic straws captured public attention and businesses of different sizes and different purposes saw the need.
"It is remarkable how much progress was made in such a short period of time. But plastic straws are just one single-use plastic – there are plenty of others.
"Our behaviour and our attitude will either reduce littering, waste and pollution or increase it. We face that choice every day – and in 2019 we can continue to make a difference."