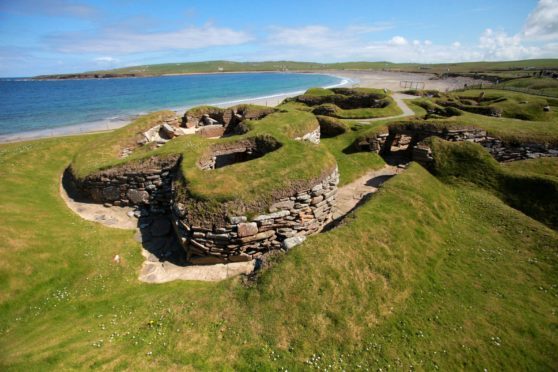 It is one of the most prized archaeological sites in the world.
But now, the threat of losing Orkney's neolithic past has become a "very serious possibility", after a new report revealed half of its 3,000 sites are at risk of flooding due to rising tides.
Skara Brae is among those highlighted as being in jeopardy by the Architectural Digest, as a result of global warming identified in the annual Arctic Report 2018, published by the National Oceanic and Atmospheric Administration.
Architect and report author Megan O'Neill said: "The heart of neolithic Orkney, with roughly 3,000 neolithic monuments, represents some of the world's oldest-known structures.
"Many were constructed before Stonehenge or Egypt's pyramids.
"These stone houses, Norse halls, and Viking tombs have survived here for 5,000 years, but now, eroding beaches and cliffs threaten to destroy about half of them."
Councillor John Ross Scott, who is based in Kirkwall, said the local authority were taking the news very seriously.
He added: "At a council level, we are listening and responding, as we can, to the ever-increasing threat of rising tides.
"However, funding the measures required to protect the sites will require central government funding.
"There are current emergency issues on the islands of Sanday and Rousay where archaeologists are trying to save artefacts before the sea takes them."
Archaeologists in these two locations are working as part of the Northern Exposure project, managed by the University of the Highlands and Islands, to examine villages abandoned in 2400 BC at the end of the Neolithic period.
The NOAA released its annual Arctic report, which revealed that rapid warming over the past three decades has led to a 95% decline of the region's oldest and thickest ice.
As a consequence, many coastal areas are at increased risk of flooding, storm surges, and erosion.
The report states: "This shows that the Arctic region experienced the second-warmest air temperatures ever recorded; the second-lowest overall sea-ice coverage; and the lowest recorded winter ice in the Bering Sea."
Mechtild Rossler, director of UNESCO's World Heritage Centre, said: "Such losses do not only concern the disappearance of some of the most exceptional sites on the planet.
"They also affect people's link to the past, their identity, their resilience, and our collective knowledge."
He added that losing UNESCO World Heritage sites such as Skara Brae and those in low-lying areas in the heartland of Orkney, would be a "dramatic loss for humanity".