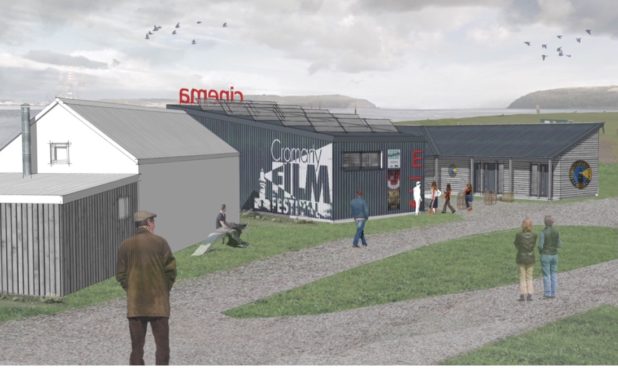 A Black Isle film society is one step closer to beginning construction of its very own purpose-built cinema.
The Cromarty and Resolis Film Society has now gained complete funding for the project and the creation of the £240,000 cinema is expected to start in March.
The money has been amassed through grants from Leader, Creative Scotland, Viridor, The Robertson Trust and local crowdfunding efforts.
Fraser Mackenzie, a trustee of the society, said: "We secured planning permission back in September and have been working towards generating the funding since then which has been successful.
"We will be utilising every penny to improve the quality of the cinema."
The Cromarty and Resolis Film Society was established in 2004 and has been based at the Victoria Hall on Cromarty High Street.
The group was formed after a handful of film enthusiasts set out to make their dream of hosting screenings in the community a reality.  It now staged an annual film festival in December and is continuing to develop bold plans.
Mr Mackenzie added: "Some of our members had the great idea of hosting a film festival and it has just got bigger and bigger. It really is a big event for Cromarty.
"The Screen Machine used to come and visit and we thought we could just about do a little cinema of our own, so we have been working jointly with Eden Court and will be showing screenings at the same time as they do.
---
>> Keep up to date with the latest news with The P&J newsletter
---
"Over the years, we have had Hollywood directors and producers come along, as have the guys from Still Game, so it has really helped put Cromarty on the map."
Earlier this month, the 12th Cromarty Film Festival took place – the largest to date – with 35 screenings at eight venues across the town, and featuring an eclectic variety of guests, including Scottish comedian and actor, Gregor Fisher, and Scottish poet and novelist Jackie Kay.
Mr Mackenzie said: "We plan to keep running our festival as well as mirroring and we anticipate the cinema being popular in the summer and ticking over in the winter and we hope to create a part-time job through the cinema's creation.
"We currently use about eight different venues in the village which helps to bring the whole community together.
"The cinema will also allow for other avenues with planned strong broadband being implemented to allow for conferences, streaming of live shows and potential gaming events considered.
"Hopefully it is just a case of when we build it, they will come."
The society is hopeful that construction of the cinema is complete in time for the next festival, 12 months hence.
Sponsorship opportunities are also available over the naming of individual seats or stars which will grace the walls of the new building.
So far, 19 of the 32 available seats have been snapped up by sponsors.