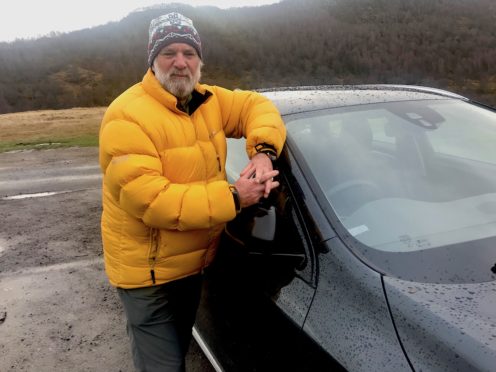 Callous thieves are targeting vehicles being left by climbers and hillwalkers as they tackle Scotland's famous mountains – knowing they will be away for hours.
Incidents at Glen Feshie in the Cairngorms have shocked one of the country's top mountaineers, writer Cameron McNeish, who has never heard of such crimes in his 40 years of enjoying the sport.
Police have sent out a warning about opportunist thieves after two cars were targeted in Glen Feshie.
---
>> Keep up to date with the latest news with The P&J newsletter
---
The thefts have led to discussions about whether the age-old system of displaying a note in vehicles to advise of the route intended walking and estimated time of return. This is a way of giving mountain rescue teams an idea of where to search in the event that anything goes wrong.
There is concern that vehicles left overnight at the relatively remote Achlean car park has become a target for car thieves. It is used by people climbing the Munros of the Moine Mhor or Sgor Gaoith.
Now motorists are being advised by police not to leave any items of value in the vehicle within view of onlookers.
And Mr McNeish, of Newtonmore, urged people not to leave route maps on car windscreens.
He said: "I am saddened and very concerned that car thieves are obviously now operating in walkers' car parks like the one at Achlean. I haven't come across this in 40-odd years."
In light of the situation, he advised walkers to tell people where they are going and when they will be back as a better system.
Mountaineering Scotland said the thefts were "extremely rare". A spokesman said that route maps could be displayed on cars if someone is walking alone if there is no other option. But he added that the best system is to tell a friend or family of your plans.
Entry was forced into one car left at the car park at Achlean and a number of items of walking equipment were stolen.
The theft took place some time between Friday January 4 at 9.30pm and 4.30pm on Sunday, January 5.
During the same period of time, a separate vehicle in the same car park was vandalised, with a window broken.
Inquiries are ongoing into both incidents and anyone with any information is asked to call 101, quoting reference NM48/19, or call Crimestoppers on 0800 555 111.
Preventions and Interventions officer Constable Keri Jones said: "While nothing is foolproof, I would urge people to take steps to try and minimise the risk of them becoming victims of opportunist thieves.
"Items of value and personal belongings should not be stored in an unattended vehicle and they should certainly not be left in open view.
"If car owners are not able to take their property out of the car, they should at least hide it away from prying eyes and lock it out of sight in the boot.
"While this is not a failsafe deterrent against crime, it denies the would-be thief the opportunity to window shop.
"Most vehicles these days have alarms and/or immobilisers as standard. Anyone whose vehicle does not have this type of security measure should give consideration to fitting one or both.
"We know that many car parks used by walkers are in remote areas and some are rarely visited so your vehicle may be unattended for some time so it is particularly important not to give potential thieves an opportunity.
"People should be able to leave their car and enjoy time in the hills without any fear of it attracting the attention of criminals. Incidents like this are extremely unusual for the area but these recent events have shown it is always worth taking steps to minismise the risk."