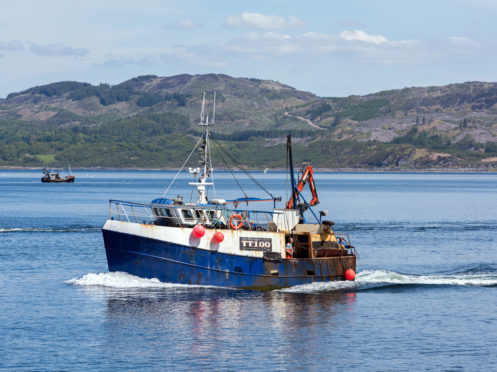 Investigators have published an interim report on the sinking of the Nancy Glen fishing boat, in which two men died.
The vessel capsized and foundered in Lower Loch Fyne, within site of its home port of Tarbert in Argyll on January 18 last year.
Duncan MacDougall, 46, and Przemek Krawczyk, 38, both fathers and husbands who lived in the village, were trapped on board and drowned when the trawler sank. The alarm was raised by a third fisherman, John Miller, who was pulled from the water by the crew of a passing boat.
An interim report published by the Marine Accident Investigation Branch (MAIB), states: "At about 5.50pm on January 18 2018, the prawn trawler Nancy Glen capsized and later foundered in Lower Loch Fyne, Scotland. Nancy Glen's crew was trawling for prawns when the vessel heeled excessively to starboard then capsized rapidly; only one of the three crewmen survived."
---
>> Keep up to date with the latest news with The P&J newsletter
---
It states that seas were calm with occasional snow showers when the sinking took place.
The interim report continues: "The MAIB's investigation has considered all aspects of the accident including analysis of underwater surveys and an inspection of the vessel after it was raised from the seabed by the Scottish Government. The MAIB's investigation has considered: why Nancy Glen capsized, why only one crewman survived, and the actions necessary to prevent recurrence.
Grieving father says criminal investigation shows wreck containing lost son must now be lifted
"A draft report of the MAIB's investigation is complete and was distributed to key
stakeholders on January 10 2019 for a 30-day consultation period."
A gathering took place in Tarbert on Friday to mark the first anniversary of the tragedy. A memorial stone at the end of Pier Road looks out to sea and the scene of the disaster.
The vessel sank near Barmore Island in the evening while returning with its catch and was lying at a depth of more than 460ft.
The community launched a fundraising drive to support the families and pay for the wreck to be raised.
The Scottish Government then agreed to cover the costs of the salvage operation – around £1 million.