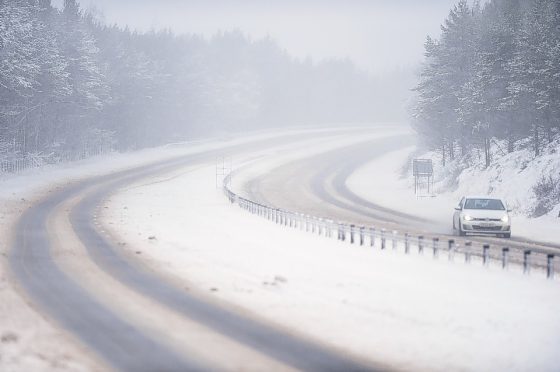 More than 1,000 Highland pupils have the day off today after a number of schools closed because of the weather.
Heavy snow overnight in the north and west Highlands has resulted in the closures of 41 schools, mainly in Skye and Sutherland.
Much of the Highlands and parts of the north-east woke up to snowy conditions this morning
A yellow weather warning for snow and ice remains in place until 11am today.
The Met Office had been forecasting up to 10cm of snow on high ground and 2cm to lower levels.
The Highland schools closed in full are:
Auchtertyre Primary:  Closed (bad weather)
Auchtertyre Primary Nursery:  Closed (bad weather)
Bonar Bridge Nursery – EM:  Closed (bad weather)
Bonar Bridge Primary:  Closed (bad weather)
Broadford Nursery – EM:  Closed (bad weather)
Broadford Primary:  Partially closed – opening 1 hour later (bad weather)
Bualnaluib Primary:  Closed (bad weather)
Bualnaluib Primary Nursery:  Closed (bad weather)
Bun-Sgoil Shlèite:  Partially closed – opening 1 hour later (bad weather)
Bun-sgoil Shleite – GM Nursery:  Partially closed – opening 1 hour later (bad weather)
Carbost Primary:  Closed (bad weather)
Carbost Primary Nursery:  Closed (bad weather)
Dunvegan Nursery – GM:  Closed (bad weather)
Dunvegan Primary:  Closed (bad weather)
Edinbane Primary:  Closed (bad weather)
Elgol Primary:  Closed (bad weather)
Farr High School:  Closed (bad weather)
Farr Primary (Suth):  Closed (bad weather)
Farr Primary Nursery (Suth):  Closed (bad weather)
Glenelg Primary:  Closed (bad weather)
Glenelg Primary Nursery:  Closed (bad weather)
Kilmuir Primary:  Closed (bad weather)
Kilmuir Primary Nursery – GM:  Closed (bad weather)
Kinlochbervie High School:  Closed (bad weather)
Kinlochbervie Primary:  Closed (bad weather)
Kinlochewe Primary:  Closed (bad weather)
Kinlochewe Primary Nursery:  Closed (bad weather)
Lairg Primary:  Closed (bad weather)
Lairg Primary Nursery:  Closed (bad weather)
Loch Duich Primary:  Closed (bad weather)
Macdiarmid Primary:  Closed (bad weather)
Macdiarmid Primary Nursery:  Closed (bad weather)
Melvich Primary:  Closed (bad weather)
Melvich Primary Nursery:  Closed (bad weather)
Plockton High School:  Closed (bad weather)
Plockton Primary:  Closed (bad weather)
Poolewe Primary:  Closed (bad weather)
Poolewe Primary Nursery:  Closed (bad weather)
Rosehall Primary:  Closed (bad weather)
Shieldaig Primary:  Closed (bad weather)
Shieldaig Primary Nursery:  Closed (bad weather)
Staffin Primary:  Closed (bad weather)
Staffin Primary Nursery – GM:  Closed (bad weather)
Struan Primary:  Closed (bad weather)