Frustrated house hunters in the north are pleading for changes to stop the number of homes being used for Airbnb-type holidays, rather than providing much-needed homes for residents.
But Airbnb itself, one of the biggest online holiday lets company in the world, says it is not the problem – and that Scotland should build more houses instead.
In a week when it emerged that Highland rents are the highest in the country – and continue to rise – the imbalance between supply and demand across swathes of the north has left dozens of people chasing the same property – and many missing out repeatedly.
If you're lucky enough to be calling Bonnie Scotland home tonight, you'll need a supper worthy o' a grace. Neeps, tatties, a dram or two and of course some haggis. How are you celebrating #BurnsNight?

Photo: @ s_marley6666 pic.twitter.com/CBOHyEE3I6

— Airbnb UK (@Airbnb_uk) January 25, 2019
In Caithness, it is understood 50 people "bid" on a single studio flat in Thurso and 200 showed interest in a house in Fort William. In Orkney, there are reports of as little as two rental properites coming to the market in a month.
One rental company in the islands had to shut up its house rental business due to lack of homes for offer.
Former owner Markus Bentley said: "We ran a successful online rental property business in the Northern Isles for a decade or more – but so few houses are coming onto the market we have now closed.
"Ironically we are now running a holiday home rental business with some of the same houses that used to be in long-term lets.
"People who do Airbnb are not legislated in the same way as a normal business – and until that is done, people will get more money by renting space for holidays than they will for long-term rents.
In Fort William, where a housing shortage on the rental market is particularly acute, Councillor Andrew Baxter said: "The rise of companies such as Airbnb, who allow for much higher revenue from property, is now taking its toll alongside the lack of affordable housing in the area.
"People are struggling to get settled here, and there is no real solution for the future.
"A lack of homes will have an impact on the future of the town if we cannot get more long-term properties onto the market."
Figures from estate agent Your Move this week revealed the average monthly rent in the north of the country shot up by 12.1% to stand at £699.
Your Move said the region is becoming highly sought-after, in part due to the growing allure of living somewhere rural and away from the hustle and bustle of big cities.
Nationally, the average rent stands at £576 per month.
Lochaber businessman Angus MacDonald said he was struggling to find any accommodation for workers coming to work on his cinema building in Fort William.
He said: "We are still looking for about 10 rooms. Things are desperate, and there are not even any houses coming onto the market to help. If we can't find accommodation there will be real problems in the future."
An Airbnb spokeswoman said: "Airbnb helps to diversify tourism, promoting those areas that need visitors the most, and dispersing people out of tourist hotspots.
---
>> Keep up to date with the latest news with The P&J newsletter
---
"Countless experts agree that Airbnb has no significant impact on the housing market and that housing concerns in Scotland are driven by house building not keeping pace with demand.
"Entire home listings represent just 0.6% of the overall housing stock in Scotland, with the vast majority of hosts sharing space in their own home, and almost 50% of hosts say that using Airbnb helps them to afford their homes."
A spokesman for Her Majesty's Revenue and Customs said any earnings over personal allowances were reportable to them through annual returns.
One couple looking for accommodation in Oban said they had missed out more than 20 properties.
Shop assistant Mary McLeod said: "We applied for one house two minutes after it had been posted on Facebook.
"My partner was told we were fifth on the list, the property was a one-bedroomed house and it was going to cost £600 per month. There was no parking. The owner told us that in 12 hours he had 47 people ask for the house.
"Another time we were about to sign for the house, and someone offered the landlord an extra £100 a month and we didn't get it.
"We just wouldn't get a house on the housing list."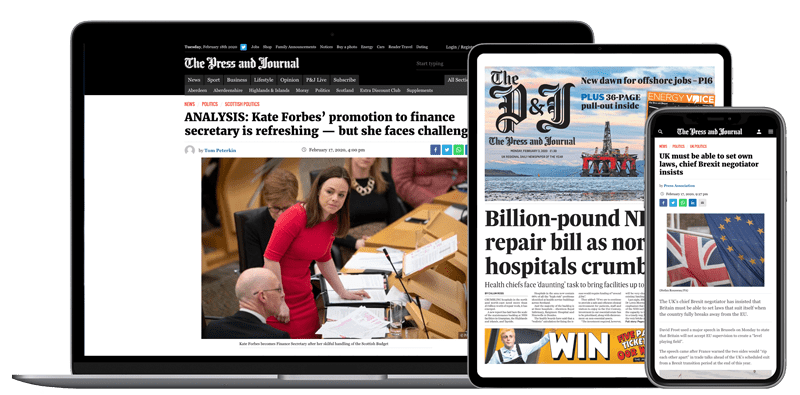 Help support quality local journalism … become a digital subscriber to The Press and Journal
For as little as £5.99 a month you can access all of our content, including Premium articles.
Subscribe