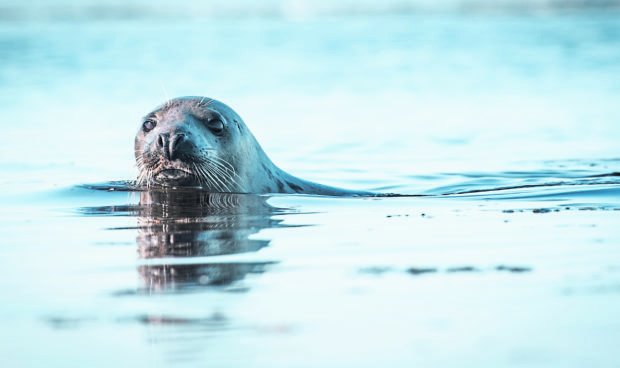 Salmon producers in the northern isles say they are confident 2019 could be the first year in the industry's 40-year history that no seals will be shot in Shetland as multi-million pound investments into anti-predator nets begin to show positive results.
When tourists discovered five shot seals on the coastline at Basta Voe, in Yell, last summer, environmental campaigners renewed their calls to outlaw the shooting of seals in Scotland.
Every year government agency Marine Scotland grants more than 40 licences to salmon farming companies allowing them to shoot seals to protect their stock and gear resulting in 73 seals being shot in Scotland in 2017.
Latest figures complied by the salmon farming industry show that last year (2018) 13 seals were shot in Shetland, eight by Cooke Aquaculture, five by Scottish Sea Farms and none by Grieg Seafood.
Following an investigation by Marine Scotland, Cooke Aquaculture was fined £2,000 for failing to report the killing of seals in Basta Voe to the licencing authority within 48 hours.
Cooke farm manager David Brown said the company was in the process of investing a total of £4.7 million into anti-predator nets.
---
>> Keep up to date with the latest news with The P&J newsletter
---
Mr Brown said the company has had no issues with seals in the 140 cages so far fitted with the new netting, and expects the number of seals shot on their farms to drop to zero once all the company's salmon farms are equipped with the new anti-predator netting by the end of 2019.
The other two salmon producers operating in Shetland, Grieg Seafood and Scottish Sea Farms, have confirmed that they are investing similar amounts into anti-predator nets
"We don't want to shoot seals," Mr Brown said, "We need to be seen to be working with the natural environment, and prove that salmon farms and seals can co-exist."
Grant Cumming, managing director at Grieg Seafood Shetland, added: "Over the past five years we have spent several million pounds on new netting to protect our stock and minimise the risk of seal predation. This has been largely successful and we have not had to shoot any seals in 2018."
The shift in the industry's attitude has been welcomed by local conservationists.
Hillswick Wildlife Sanctuary co-owner Pete Bevington said: "We are glad that this is now taking place. What we really hope is that this sets some kind of precedent for the salmon industry elsewhere.
"People are not happy hearing about wildlife being killed by industry no matter where and what industry that is. These times have to come to an end."
Wildlife presenter Lizzie Daly added: "Salmon farms are an important industry for Scotland and the good news is that by investing in these nets it will show how it is possible for them to coexist alongside seals without the loss of fish or the shooting of seals."