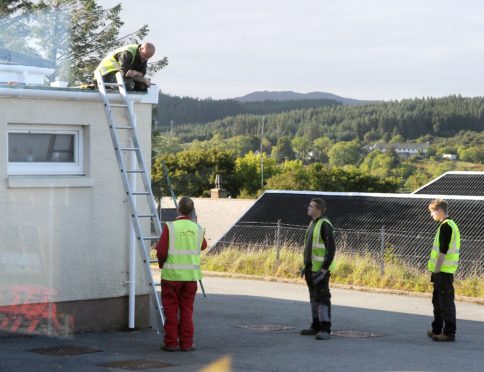 Education chefs have placed two crumbling Skye schools at the top of its priority list as efforts are made to address the state of the north school estate.
In total, nine schools across the region have been selected by Highland Council bosses as their priority for key investment in anticipation of the next round of Scottish Government funding.
In November it was announced a further £1billion is to be committed by the Scottish Government towards building and refurbishing schools, with the funding due to kick in in 2021.
Both Broadford and Dunvegan primaries have been plagued with problems over the years, with temporary repairs deemed to be no longer acceptable to ensure the longevity of the current school buildings.
Broadford Primary Parent Council welcomed the news, with a spokeswoman saying: "It has been clear for many years that the only option for Broadford Primary School is a new build and the community is working very hard to achieve this in partnership with Highland Council.
"The announcement of an additional £1billion for schools programme via Scottish Futures Trust is very exciting and we anxiously await details while we continue to lobby and plan for the desperately needed new school and community hub in Broadford."
Last year footage emerged of water pouring into Dunvegan Primary School, whilst Broadford pupils were forced to go without hot meals after flakes found in the school's canteen contained traces of asbestos.
Kate Forbes MSP expressed her delight, brandishing the news as "refreshing". She said: "There is a lot of work to be done, but it is excellent news that the council appears to have a plan, it recognises the importance of Broadford and Dunvegan Primary Schools and finally we're moving in the right direction."
Councillor John Finlayson added: "A major ingredient in terms of bringing these badly needed projects to fruition will be joined up working and a shared vision.
"The community, staff, parents, Highland Council officers and our MSP have all worked together to plan ahead to ensure that Broadford and Dunvegan receive 21st-century schools that provide pupils with a 21st-century learning environment."
Also included in the priority list are the supercampus at Tain and Nairn Academy.
A council spokeswoman confirmed their list of priority schools has been highlighted to the Scottish Government, with consultations having already taken place in both communities relating to the options for improving the school buildings.
She added: "This positive engagement with the two communities means the Council would be well placed to progress plans, subject to funding being available, and awaits further details of the Scottish Government's schools improvement programme."
Future investment
In total the Highland Council has prioritised nine schools for future investment, with bids also expected for Alness and Kiltearn primary schools following the outcome of public consultations.
The nine schools are:
A new campus in Tain that will house young people aged between three and 18
Fortrose Academy
Nairn Academy
Beauly Primary
Broadford Primary
Dunvegan Primary
Invergordon Primary
St. Clements Primary in Dingwall which caters for children and young people who have Additional Support Needs
Tarradale Primary