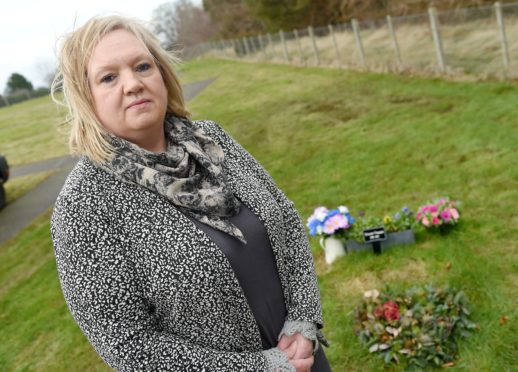 A Nairn widow has called for better communication after council workers tried to remove precious ornaments and flowers from gravesides.
Lynda Fraser lost her husband Stuart two years ago after a battle with cancer – but was left shocked after workers had removed a cherished heart from her husband's grave at Auldearn Cemetery.
Mrs Fraser said: "I was taken aback as I had to retrieve flowers and a memorial heart from my husband's graveside from the Highland Council van. I had hoped to revamp the heart for the 14th and that was almost taken away from me.
"The council know they aren't supposed to go near my husband's graveside as we maintain the area ourselves. My son cuts the grass so there is no reason the council workers should have been anywhere near it.
"Workers told us they were instructed to pick up all Christmas wreaths ahead of grass cutting. The issue was dealt with in a calm manner but I just feel there is room for improvement and better communication."
The discovery came as Mrs Fraser attended the cemetery on Monday morning to clear moss as she voluntarily tidies up the area surrounding the gravesides. Now, she has called for greater communication from the Highland Council to ensure other mourners do not have to encounter the same experience.
She added: "If I hadn't been there I would have returned with my daughter when she is back from Italy and it would have been devastating.
"I don't even lift my own family's flowers without asking for permission so I am confused why the council feel this is alright.
"Cemeteries are a very sensitive place and should be treated with respect. It is a matter of principle and respect."
Mrs Fraser is currently pushing for a community group to be formed to take on maintenance around the cemetery, with display signs relating to dates tributes are to be removed one suggestion she feels would aid in avoiding any unnecessary hurt for mourners.
A Highland Council spokeswoman confirmed that all floral tributes shall generally not be removed for at least 14 days or until their appearance has substantially declined, with Christmas wreaths remaining in place until at least the end of January.
She added: "The council is aware of the concerns raised at Auldearn Cemetery and will respond in due course direct.
"The council is currently reviewing its management rules for cemeteries and Kilvean Crematorium which will be going out to public consultation. Any changes will be presented for members' approval to the environment, development and infrastructure committee in May 2019."