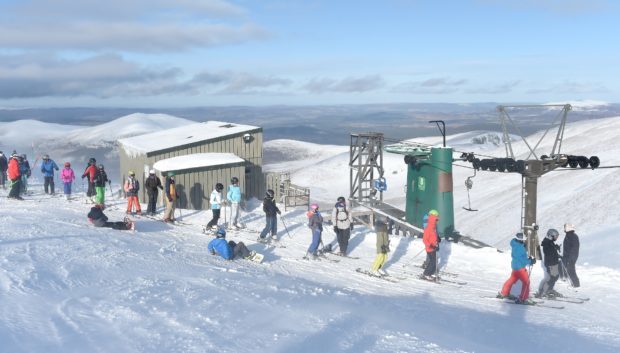 Beleaguered bosses at Cairngorm Mountain are currently dealing with additional problems relating to the centre's waste water management plant.
The new operators of the mountain facilities, including the grounded funicular railway, have been working on problems highlighted in improvement notices served by the Health and Safety Executive (HSE).
Bosses now have to ensure the inspection covers at the mountain's waste water treatment plant are load bearing and secure, as well as ensuring an emergency shower is installed.
The storage of mountain rescue all-terrain vehicle at the plant is also now required to end.
Works are being undertaken by the new operators of the mountain, Highlands and Islands Enterprise (HIE) subsidiary Cairngorm Mountain Scotland Limited (CMSL), who assumed control in mid-December after CairnGorm Mountain Limited went into administration.
Susan Smith, head of business development with HIE, said: "Safety is the number one priority at Cairngorm. CMSL has been quick in taking decisive action to address issues inherited from the previous operator and improve the visitor experience. This work will continue so that full compliance with HSE requirements is ensured in future."
The new operators are currently under scrutiny after it was announced that the funicular railway, which aids in transporting snow sports enthusiasts to the ski range, is to affect summer trade on the hill after it had already been established that the railway will remain closed for the duration of the winter skiing period.
Concerns were first raised over the structure in September following an annual inspection, with complete closure occurring at the beginning of October.
CMSL have already begun addressing the issues raised relating to two of its vital tows, with works on the drive station situated at the West Wall Poma completed, and a new walkway to also be installed at the Coire na Ciste tow next week, should favourable weather ensue.
Local councillor Bill Lobban said: "Health and safety on Cairngorm Mountain is of critical importance and we are currently in the middle of what is an ongoing process.
"Cairngorm Mountain Scotland Limited are doing a good job of making sure whatever is available on the mountain works well to ensure the best use of snowfall, which is good for the mountain but also good for the local economy."
Ross Harris, interim chief executive of CMSL said: "At Cairngorm Mountain, we are committed to maintaining and improving the mountain infrastructure in order to provide the best possible experience for our customers."