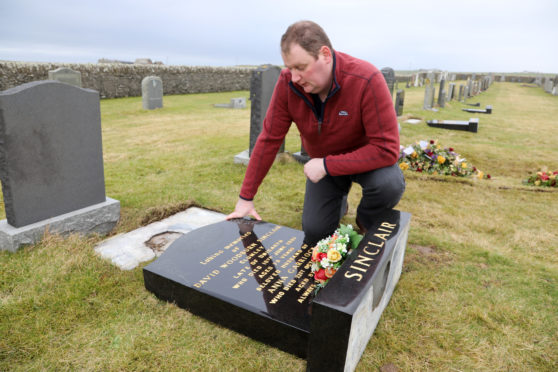 An island council has made a public apology after flattening hundreds of gravestones without warning in a bungling bid to comply with updated safety guidelines.
The "dangerous" memorials were uprooted and flattened by Orkney Islands Council in the interests of public safety.
It followed the death of schoolboy Ciaran Williamson who was playing with friends in a Glasgow cemetery when a headstone fell on him in May 2015.
But the move caused a huge public outcry and may have cost the authority tens of thousands of pounds, according to some estimates.
The operation has now been halted and the council has issued a full apology and undertaken to make amends.
---
---
Convener Harvey Johnston said: "Somewhere along the line things have not happened the way we would have liked them to have happen. I would like to apologise profusely really for the state the kirkyards are in and also for the hurt that has caused.
"I have been to see the kirkyards and seen the state they are in and that's not acceptable. So we have stopped the procedure and we will develop a new procedure… where you can identify the stones that are in danger and mark them.
"The council will put the kirkyards back into the state that they should be. I can't say we will reinstate every single stone into the state it was in…..because some of those stones around the kirkyards are not safe. But we will do what we possibly can."
But local Rae Slater said: "Criminal prosecutions should follow for this illegal, immoral and unjustified wrecking spree. I have upwards of one hundred relatives at rest in St Peters kirkyard so imagine my horror and anger when I passed through the gates last Thursday. I've been there every day since assessing damage and contacting relatives as far away as America. For the record, I counted sixty-six flattened headstones.
"The ironic thing about this debacle is that the OIC, for the past week, nearly created a bigger health and safety issue than the one they were trying to solve. Twice in the past three days I have witnessed family members restoring headstones to their rightful place."
Steven Sinclair wrote: "Thank goodness for common decency to prevail. Thank you the Orkney public for keeping behind this cause and getting the OIC to admit fault and put the kirkyards back to rights!! A win for the people!!"
And Garry Allan warned:"So I saw on an earlier post that each gravestone would take approximately £350 to replace. Also it's been said that around 200 stones have been flattened. That's roughly £70,000."