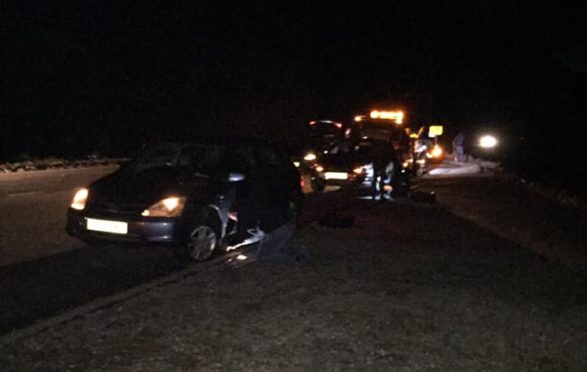 At least 10 cars in one night had blown tyres or axel damage from a crater-like pot hole on one of Scotland's "picture postcard" roads.
Driver after driver took to social media to complain about the state of the A82 near Glencoe, demanding that BEAR Scotland pay compensation for damage to vehicles.
Driver Leanne Stoddart, from Lochaber, warned other vehicle owners to beware of the "vampire's tooth" crack in the road on social media, she said: "Massive pothole after the big waterfall in Glencoe travelling north. About 10 cars off road with burst tyres.
"Every car is hitting it,  some blowing two tyres."
Nicola Maccoll  said: "Got a flat tyre from this pothole on Sunday night. I was one of nine other cars at 7.30pm.
"Some had two burst tyres. Kids in some cars too. No phone signal. Welcome to Lochaber!"
Eyewitness, Shona MacKay said: "There were about six cars with hazards on when we past.
"Luckily we didn't see, or hit, this pothole but did stop and ask a gentleman to see he was ok  – as we didn't know what was going on and he told us.
---
>> Keep up to date with the latest news with The P&J newsletter
---
"Shocking the amount in one night and the fact it is constantly happening. Hope they claim."
Linda Sinclair said: "What's it going to take before this is sorted? Caught the edge of it on Friday night, fortunately no obvious damage. "
Kelie Cooper commented: "Hope this gets sorted very soon, just now it's tyres but could cause a serious accident."
One victim of the pothole, Diana Finnigan Allan said: "Totally raging. How many people's wheels have been wrecked by this? Was so lucky to have people there to help me out."
Emma Ross added: "We came through there around 2:30pm on Sunday and hit it too, thank goodness we never got a puncture and still amazed we never, was some clatter."
Stewart Robertson said: "This road is a disgrace. It's one of our pictures postcard routes up into the Highlands."
Ken Wishart encouraged other drivers to make a claim for damage. He said: "Send a letter to BEAR Scotland stating the time and place your accident happened, and they will pay out for wheels and tyres."
A spokesperson for BEAR Scotland, said: "We were notified of a pothole at the weekend on the A82 near Glencoe, following which we attended and completed a temporary repair to make the road safe.
Is this 'moon-like' street the worst road for potholes in Scotland?
"Adverse winter weather conditions – particularly the freeze and thaw cycle – can have a serious impact on roads, leading to the deterioration of the road surfaces, and our teams work to repair the worst affected areas as quickly as possible.
"Our teams are currently working to complete a £3.2 million surfacing programme which will see surfacing projects completed at over 30 locations in the north-west unit by the end of March to address any defects in the carriageway.
"This follows on from a £23.5 million investment cross 150 schemes undertaken since February last year."
A permanent repair was to have been carried out on the A82 last night.