Mother gives birth to twin boys 52 miles apart following ambulance fiasco
Nicola Sturgeon yesterday pledged to investigate the 100-mile ambulance journey of a mother-to-be who gave birth to her premature twin boys 52 miles apart.
Controversy over the provision of maternity services in the far north was re-ignited when the mother's ordeal was raised in the Scottish Parliament by Labour Highlands and Islands MSP Rhoda Grant.
Ms Sturgeon promised to look into the case when it was raised at First Minister's Questions by the Labour politician.
An attempt to airlift the pregnant woman to Raigmore Hospital had to be abandoned when she was en route from Caithness General Hospital in Wick to Inverness.
---
>> Keep up to date with the latest news with The P&J newsletter
---
But the most dramatic interruption was when half way through the journey the ambulance pulled in to Golspie Community Hospital for her first twin to be delivered.
In a Facebook post the unnamed mother said: "My delivery should never have happened the way it did. It could have gone so wrong."
The mother was only 30 weeks pregnant when her waters broke at work in November last year. She made her way to Caithness General Hospital where she waited for a couple of hours before being told she should go to Raigmore by ambulance.
Her contractions became stronger outside Golspie. The two midwives on board took the decision to stop at the local hospital. Shortly afterwards at 10.30 pm her first child was delivered in a breech birth.
At this point the mother was told that the air ambulance had been summoned, but would not be arriving for some time. Therefore a doctor and two nurses were ferried by police car from Inverness to look after the first twin.
The mother was then informed that the helicopter was unable to land because of frost on the propellers. Calling another air ambulance was considered, but it was decided it would take too long.
Eventually it was decided to resume the ambulance journey to Inverness. A convoy of two ambulances left at 2am. One contained the mother, her unborn twin and two midwives. The second ambulance carried her new born twin and two nurses.
A police car and two other cars travelled with doctors and her partner. Her second boy baby was induced at Raigmore and her twins were transferred to the Special Care Baby Unit. The family remained in hospital for six weeks until the babies were strong enough to go home.
The mother praised NHS staff who looked after her. But she wanted to know why she hadn't been flown to Inverness at the outset.
Concerns about maternity cover in the area have been expressed since consultants were withdrawn from the maternity unit of Caithness General two years ago. Most expectant mothers from Caithness and north Sutherland are referred to Raigmore.
At Holyrood, Ms Grant said: "It begs the question why was the air ambulance or emergency retrieval team not tasked initially with airlifting the mum from Caithness? Will the first minister investigate this and will she make sure the air ambulance treats situations like this as a priority?"
Ms Sturgeon agreed to investigate the point, adding that Health Secretary Jeane Freeman would examine it. The first minister also sent her "good wishes" to the family.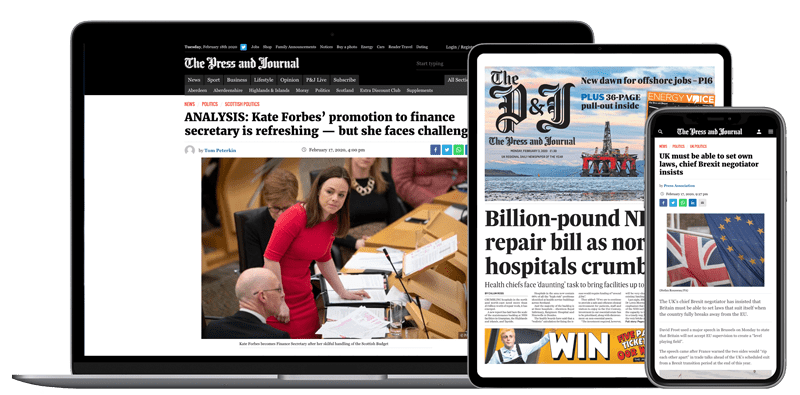 Help support quality local journalism … become a digital subscriber to The Press and Journal
For as little as £5.99 a month you can access all of our content, including Premium articles.
Subscribe