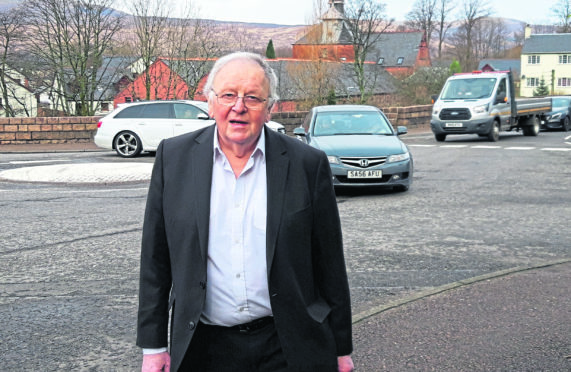 Hundreds of hours of consultation have failed to provide a solution to the gridlock that is the cause of daily misery for residents in Fort William.
Summer months bring money and visitors to the town and surrounding area but also many thousands of cars, bringing roads to a standstill.
There is, however, increasingly no let-up during the winter months, with the reputation of stretches of the A82 as some of the busiest stretches in Scotland proving well-founded.
---
>> Keep up to date with the latest news with The P&J newsletter
---
Exhausted locals have now called for not one, but two solutions to the traffic problems, demanding both a bypass and a relief road at a pinch point on the route.
The Nevisbank Roundabout takes drivers from Fort William to Inverness or Mallaig, with vehicles exiting left to the north road and straight on to Glen Nevis, a popular tourist way.
Residents claim it has been causing almost an hour of daily delays, leaving town commuters tearing their hair out.
Community councillors have become increasingly furious that a lasting solution has not been found, with Neil Clark – a former Highland councillor – demanding answers be found.
Long-awaited study into traffic congestion in Fort William announced
Mr Clark said: "I would love to know how much time, energy and money has been put into finding a solution in the last 40 years, and all it has saved is three seconds.
"I think we need to think of both a by-pass and a relief road. The traffic into Fort William has increased to the point that we don't know what to do with all the cars.
"If they can build that beautiful ring road around Inverness, then something needs to be done to smooth things out here."
Councillor Andrew Baxter added: "Fort William continues to be a bottleneck for anyone travelling up the West Coast during the busy summer months.
"No single body can solve this problem on their own.
"We need a bypass or relief road and there is no point in Transport Scotland spouting the normal mantra that it is for the council to resolve.
"It is a trunk road problem and it needs funding on that basis.
"I hope they don't think the changes they've made at Nevis Bridge are the long-term solution as they've done little to ease the gridlock we can experience."
In January, a Transport Scotland spokesman said: "Transport Scotland officials met with the Fort William Congestion Working Group last month and agreed to commission a further report to identify additional improvements to the trunk road through Fort William.
"We are committed to working with The Highland Council on the second Strategic Transport Projects Review, which will take forward the recent transport studies completed for Fort William and Lochaber."