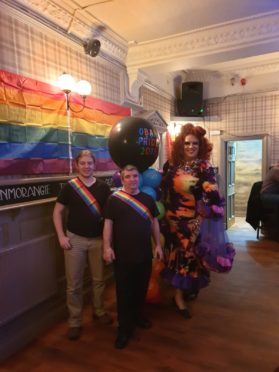 The first ever Oban Pride festival is to take place in May.
Organisers said the event will be a celebration of diversity within the local area and will aim to help promote equality for the LGBT community.
They revealed last night it would go ahead on Saturday, May 18.
On the day there will be a street parade with artists performing at different venues throughout the town. There will also be community stalls.
A series of fundraising events will take place in the run up to the main Oban Pride day.
Local drag performer Crystal, or Phill Dexter from the Pride committee, announced the date, saying: "Pride has many different aspects to it now, when Pride first started not long after the Stonewall Riots in 1969 it was a protest for the LGBTQ+ community to be able to get equal rights and be treated equally.
"Now Pride still has the aspect to it as we may have come along way with equal rights in this country but there are other countries that don't and we are showing the world that our beautiful town of Oban stands with them in their fight for equality.
"Pride is also a celebration of how far our rights have come in this country, as well as making everybody feel welcome in all areas of our community.
"Oban Pride 2019 will take place on May 18. We are currently working on a programme full of entertainment that the whole family can enjoy for that afternoon.
"We are also hoping to have a parade throughout town as well as other events throughout the evening and the weekend."
Gary Hamilton, another committee member, said: "February is LGBT History month so to mark the end of this we have a double feature at Oban Phoenix Cinema on March 1 with a documentary movie called LGBT Britain at 6pm followed by the fabulous new musical 'Everybody's Talking about Jamie' at 8pm which is a live stream."