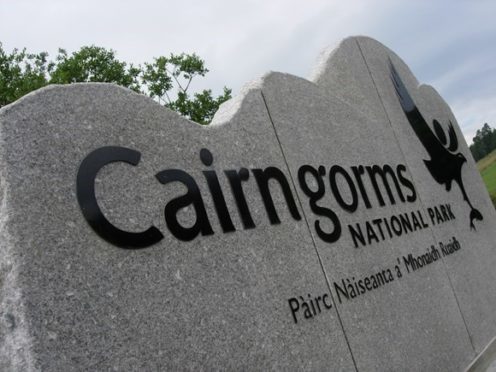 If you hate spiders look away now!
Naturalists in Badenoch and Strathspey have discovered the existence of a new nocturnal spider in the heart of the Cairngorms.
The Bridge Orbweaving spider was found by the community's conservation group earlier this month as part of their ongoing efforts to protect the habitats of species living in the National Park.
It is believed to be the first time the eight-legged and eight-eyed spider, a proficient hunter, has been recorded in the Highlands.
It is more commonly seen in the south of England and its presence is being seen as evidence of the health of the Highland habitat.
The spread of the species could also related to climate change.
A spokesman for the Badenoch and Strathspey Conservation Group said the team were thrilled to have made the discovery on their doorstep.
"We are delighted to have found such an interesting and spectacular spider by the Spey," he said.
"The discovery indicates yet again how rich the Cairngorms is for invertebrate biodiversity.
"Spiders are valuable indicators of environmental health but continue to be a  'Cinderella' group that receives little attention.
"Within the Cairngorms, we have some particular spider rarities in habitats that sadly we continue to destroy."
The Bridge Orbweaving spider traditionally has white hairs along the edge of the head area that form a v-shape.
---
Keep up to date with the latest news with The P&J newsletter
---
It usually only shows up once darkness falls.
The species is commonly found in water edge habitats, including places where artificial lights attract flying insects such as midges or mayflies.
When not surrounded by bridges and boathouses, the species will traditionally weave its webs in bank-side vegetation.
Their specialty remains their ability to snare flying insects attracted by the light in its web, with the species remaining in hiding during the day before emerging to repair and reconstruct its web in the night.
The group's spokesman added: "As an important part of the web of life, the more we learn about spiders and other astonishingly well adapted invertebrate predators like robber flies the better equipped we are to look after our important natural heritage and understand for example about impacts of climate change and habitat loss."
This discovery is the second of its kind for the group of conservation experts after recording sightings of two spiders from the Wolf Spider family.