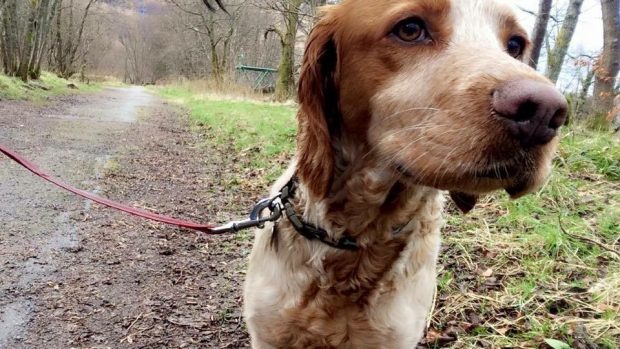 A hero dog also famous for helping the elderly in a care home has taken semi-retirement to recover from secret tidbits of chocolate.
William rose to hero status after rescuing a woman after she fell down an embankment.
He was also hailed a hero for giving joy to countless residents and visitors at the Lochaber care home where he lived.
But after vets diagnosed stress and poor health – he has had to take semi-retirement and take time out at a family farm.
---
>> Keep up to date with the latest news with The P&J newsletter
---
The Fort William community took William, a cocker spaniel originally from Malta, to their hearts when he came to offer comfort to residents in Invernevis House.
They even raised the £8,000 needed for a life-saving operation for the dog, and even today supply food for him on a regular basis.
Last October he, and his dog walker, rescued an elderly women who had fallen down an embankment and was hidden from sight in plummeting temperatures.
However, after a number of gastric upsets that saw him visit the vets on a few occasions, it was suggested William's diet and toilet habits had to be monitored very closely to rule out any food intolerances.
William, it was discovered, had been eating chocolate and other sweet meats  at the home – something that is highly dangerous for dogs.
Residents and their visitors were unwittingly causing the seven-year-old dog stress with kindness.
The home's manager, Claire Cameron, offered to take William home each night, and bring him back to Invernevis each day.
Mrs Cameron told supporters on the dog's Facebook page: "William is very good at caring for the staff and residents of Invernevis and it is important that he receives the same level of care and support and has some down time from being a superhero.
"Now he spends his days at Invernevis, and has his down time each evening running with his new doggie friends on the farm at Kilmalieu."
Lorna Ungoed-Thomas, clinical director at Crown Vets Fort William said: "William was seen by one of our vets in January for gastroenteritis.
"The vet's advice was that his care plan should include a diet of good quality dog food as well as regular exercise.
"For a member of staff to take William home at night is a very reasonable way to achieve this plan.
"It also allows William a break from the care home and the opportunity to socialise with other dogs, which he does enjoy.
"In general the feeding of too many treats, or of human food, is not good for dogs as it can lead to dietary problems and weight gain."