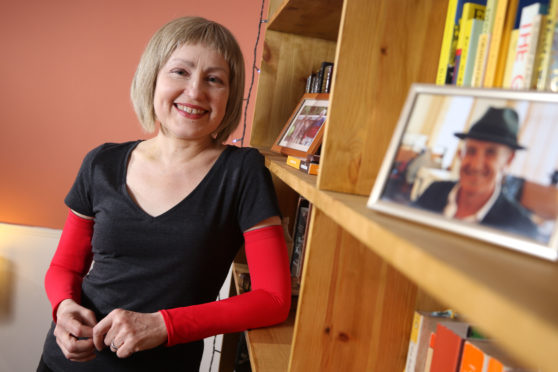 A Highland mum battling an aggressive form of blood cancer last night spoke of her "hope" for survival as she prepares to begin life-saving cancer treatment in London.
Roz Paterson, 52, from Beauly, was first diagnosed with Large Diffuse B-Cell Lymphoma (LDBCL) last summer before being given just weeks to live, as a result of four unsuccessful bouts of treatments.
In a frantic bidto watch her two children, Thea, 13, and David, 10, grow up, she set her sights on tailored treatment called Car-T Cell therapy in USA and a crowdfunding campaign was launched to raise
Following a U-turn decision by NHS Scotland last month, Mrs Paterson is now preparing to travel to London on Monday to begin the second stage of the life-saving treatment at the cities Kings College Hospital.
She said: "I am a bit terrified when I think about it because this is the big one but I'm feeling very hopeful as well. There is a lot of great research coming out and a lot of new statistics have come out and Car-T cell therapy seems to be even better than we thought.
"I'm feeling really hopeful, I think would be the way I would describe it; really optimistic. I'm just impatient to get on with it now. We are waiting and waiting and now I think we are all like just bring it on now."
More than £320,000 was raised towards her treatment through an online crowd funding appeal to send her to America when she was initially refused NHS treatment.
After the NHS u-turn, she said the money would be returned to those who gave donations, or handed to cancer charities for those who gave cash anonymously.
Her T-cells are currently being harvested in California in preparation for the procedure.
Mrs Paterson says she is feeling 'healthy' and capable of tolerating the obstacles lying before her.
She added: "Health wise I'm fine. The cancer has been held at bay by the chemo pill so my state of health is pretty good and I'm eating well and all that kind of thing.
"I'm pretty fit to be going into Car-T because a lot of people go in, when it's the last option and their health isn't great, but I think my health is pretty good; all things considered.
"When they reinfuse the cells it only takes ten minutes but you have to stay in hospital for two weeks so that they can monitor you because you can get what's like severe flu and its a reaction to all the dead cancer cells going into your blood.
"Then hopefully I will be discharged from hospital but I have to stay in London near the hospital for a month after that and then hopefully I will be discharged to Raigmore and I can come home."